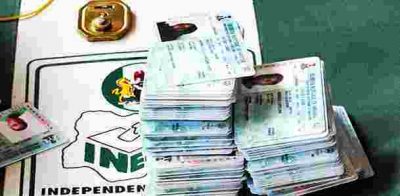 The Director of Voters Education of the Independent National Electoral Commission, Oluwole Osaze-Uzzi have expressed worries over the fact that there are still about 1.4millions cards yet to be collected by voters in Lagos State.
He made this known while speaking with newsmen revealing that Lags is not the only state with the issue.
It can be recalled that political parties have been exchanging words as to the buying of PVCs ahead of the elections.
He used the opportunity to state that about 1.4million voters in Lagos are yet to collect their ards from the commission.
According to him, "The reality with voter's cards is that despite our efforts at sensitization, many people are still not interested in picking up their cards."
"In Lagos, there are about 1.4 million PVCs which are yet to be collected and this does not portend well for voters turn-out."
The Voters Education Director also said that efforts are being put in place to ensure that office workers get their PVCs despite their busy schedule.