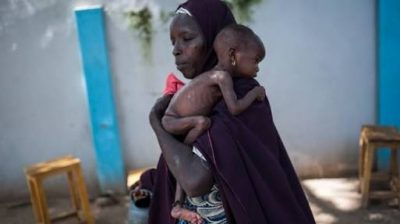 The Association for Fertility and Reproductive Health (AFRH), a non-governmental organisation, says there is need to give more attention to assisted reproductive technology (ART) in curtailing infertility.
The organisation, during a press conference held in Lagos, said there are about 12 million infertile persons in the country.
It said the use of ART becomes more relevant given the stigma and social isolation resulting from childlessness in Nigeria.
"Infertility is prevalent round the world. In many cultures such as ours, childless couples suffer discrimination, stigma and social isolation. This segregation has made A.R.T. (Assisted Reproductive Technology) practice in Nigeria very relevant. Children are so important that childlessness is seen as a taboo to the family and community at large," the association said in a statement.
"There are about 12 million infertile persons in Nigeria which is almost 10% of the total population. To this group of people, any form of access to effective treatment is priority. It is their valid or legitimate right in a democratic society like ours to have this right to life's treatment.
"Available evidence shows that a significant proportion of infertility in this environment is only 'amenable' through A.R.T. Intervention.
"One of the overarching aims of the AFRH is to enhance fertility treatment benefits across the board for patients, in terms of education, accessibility to safe and quality services, cost effectiveness, and to guide against patients' exploitations and complications.
"With currently over 70 IVF centres across the country and more on their way to being established, the existence of the AFRH Association would further entrench collaboration between the industry players as well help permeate compliance with the regulatory guidelines.
"The rapidly unfolding development of A.R.T. practice calls for the coming together of all centres in Nigeria to check unethical practices and abuse within the industry.
"The largely unregulated industry still solicits further involvement from the government in achieving the minimum standard for establishing IVF clinics.
"The AFRH in collaboration with governmental authorities will provide a robust and acceptable standard/code of practice policy documents, periodic public/stakeholders' consultations, and periodic revision of the practice."
The association said it would, in September, host the 8th edition of its annual conference. The edition, themed 'New Frontiers in Assisted Reproductive Technology' would hold in Lagos.
"For the upcoming conference on September 26th -28th, 2018, a total of 26 speakers comprising both international and speakers. The event also showcases exhibitors from different works of life round the globe," it said.