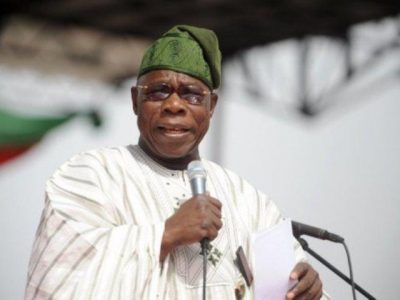 A former Nigerian President, Olusegun Obasanjo, on Thursday said that three million Nigerians have registered with the Coalition Movement of Nigeria (CMN) formed to effect political change in the nation ahead of 2019.

He called citizens to ensure they have their voter cards ahead of the 2019 elections.

Mr. Obasanjo made the disclosure while speaking at the 14th Annual Lecture of Women in Management, Business and Public Service, held at Eko Hotel and Suites, Lagos. He said the coalition in conjunction with other movements is the way out of the nation's political problems.

He said the movement would make an inroad into the grassroots across the country. He pointed out that he would pull out of CNM when it transforms into a political party and sponsors persons for elective offices in future elections.


Mr. Obasanjo also encouraged women to be active participants in the next political dispensation, adding they should be ready to support the next phase of the political process.

The former president, who was a guest speaker on the theme, 'Press for Progress: Women in Politics and Nation Building', said he was ready to give adequate and full support to women towards playing relevant roles in the country.

Mr. Obasanjo lamented that no woman has attained the position of an elected governor, senate president and some other top positions in the country.

He said women should also be adequately prepared, "by first putting their feet right and be willing to pay the necessary price to witness the desired change."

"If only womanhood was enough, Mrs. Hilary Clinton would have made it to the White House but she had a man (Donald Trump) who did what he could do to get to power.

"I don't want or expect women to climb palm trees to harvest bunch of palm fruits. If anybody says he wants to see my mother climb palm trees, I will take a second look at that person. But women must do what it takes to succeed in Nigerian political space.


"To you women, do not allow any body to build your world for you. Build your world for yourself. Yes, women need encouragement but they must do enough for themselves," Mr. Obasanjo said.

He urged Nigerian women to take a cue from America and prepare for politics, adding that if being a woman alone was what it takes to succeed in political ambition, Hilary Clinton would have emerged the United States president.

The ex-president, noted for tackling his successors openly, recently advised President Muhammadu Buhari not to recontest in 2019, citing poor performance. He subsequently announced that he would form a broad coalition with the sole motive of wresting political power from the present government in 2019.