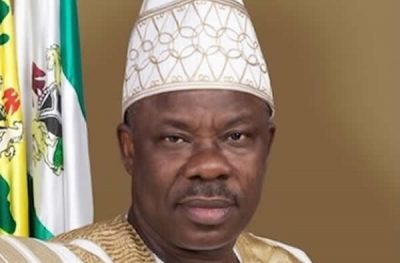 Indications emerged on Wednesday that Governor Ibikunle Amosun of Ogun State and the entire All Progressives Congress structure in the state may decamp from the party on Thursday (today).
Elders of the party at a meeting on Wednesday evening in Abeokuta, the Ogun State capital, resolved that the controversy on the gubernatorial ticket should be put behind them as they prepare for the 2019 elections.
The resolution was arrived at after Governor Amosun had reportedly briefed the elders on all attempts made to validate the election of Hon. Abiodun Akinlade in the gubernatorial primaries in the state penultimate week.
The primaries ran into troubled waters when the State Chairman of the party announced the election of Akinlade, while the Chairman of the National Working Committee on the gubernatorial primary announced Prince Dapo Abiodun as winner of the election.
The conflict remained unresolved and the Presidency directed primaries into state and federal legislative houses to establish the truth about conflicting claims of strength between the group led by Vice President Yemi Osibajo, Chief Olusegun Osoba and Dapo Abiodun on the one hand and Governor Amosun on the other.
The Amosun group claimed to have won all available seats, including three Senate, nine House of Representatives and 26 House of Assembly seats, leaving no seat for the Osinbajo/ Osoba group.
The son of Osoba, Olumide, who contested the House of Representatives ticket for Abeokuta Federal Constituency, was said to have been defeated by Hon. Muiz Kazeem by 23,000 votes to 4,050 votes.
However, the result, which was announced by the NWC committee in Abeokuta did not resolve the crisis.
The Osinbajo/Osoba group, which though accepted the result, consented to Akinlade as gubernatorial candidate but on the condition that they were given two out of the three senatorial tickets, four out of the nine House of Representatives tickets and 13 out of the 26 House of Assembly tickets.
The Amosun group rejected the request, insisting on the party respecting the outcome of the primary elections.
"It is clear that a candidate who lost all senatorial, representatives and Assembly seats could not have won the gubernatorial ticket. The party should do the right thing or else we leave," a party official who pleaded anonymity said.
He explained that the party leaders had given up on the national leadership of the party but it was Governor Amosun who insisted on pursuing their aspirations on the platform of the APC because of his closeness to President Muhammadu Buhari.
The source added: "He told us that the President had instructed (the National Chairman of the APC, Adams) Oshiomole to announce the authentic result of the gubernatorial primaries, but he refused.
"If the President cannot enforce his orders, then he has lost control of his government and it is a waste of time defending him at the expense of our own future.
"If he refuses to accept our request, we will leave the governor alone with his friend."