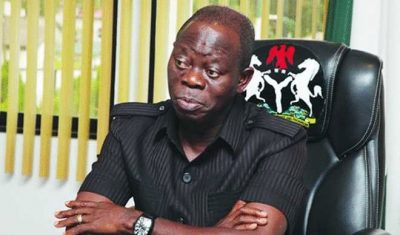 Adams Oshiomhole, national chairman of the All Progressives Congress (APC), has described the alliance against President Muhammadu Buhari as dead.
He said this at the APC mega rally which held in Ado-Ekiti, capital of Ekiti state, on Tuesday.
On Monday, the Reformed All Progressives Congress (R-APC) teamed up with the Peoples Democratic Party (PDP) and 37 parties to form a coalition to defeat President Muhammadu Buhari in 2019.
The political parties also signed a memorandum of understanding (MoU).
Reacting to this in Ado-Ekiti on Tuesday, Oshiomhole said the alliance is dead.
"You heard yesterday that they have finally conceded that they are down," he said.
"Yesterday, they said that they are doing alliance between Volkswagen, Renault, Peugeot 404. They said they are coming together to reinforce.
"I say they are lying. When you see a man that is dying, he will cling to the living to get life. Can a dead man wake the dead?
"I won't say more than that today, when we get to the other elections, we will speak to those."
He alleged that Ekiti workers were suffering because Ayodele Fayose, the governor, brought poverty to the state.
"My comrades, you know what your situation was and what it is today," he said.
"Yesterday, I spoke with the workers and they lamented to me that even teachers have not been paid for one year, civil servants, local government workers, even pensioners.
"But then, you will remember that our own President Buhari asked Fayose and some others, 'How do you sleep when you have not paid your worker over one year?'
"And Fayose collected N10 billion for bailout to go and bailout the salaries of Ekiti workers and pensioners. Fayose decided to bail out his own pocket but our president did not lament about that. He cautioned him, 'Don't do that again'.
"Another bailout, N10 billion, Fayose collected, he came to Ekiti and put the money where he put it and as we speak, you know more than me that Ekiti people have been pauperised and because they have not been paid, they can't pay their rents, they can't go to the market, and when no one goes to the market, the economy will not boom.
"But I am not surprised because he comes from poverty development party."
He assured the people of Ekiti that Kayode Fayemi, APC gubernatorial candidate, would make a difference by paying all salary arrears if elected.
"Comrade, this afternoon, I haven't come just to lament that Fayose is not doing well, we are here to bring a message of hope and to make clear commitment which Fayemi will keep," he said.
"We haven't come to shed tears about the monumental failure of Fayose's government; we have come to bring hope that Fayemi will make a difference.
"Yesterday, I told the workers I stand as a guarantor that when Fayemi comes to office, provided you vote wisely on Saturday, he will start by paying the salary arrears which Fayose refused to pay.
"The pensioners, workers need to be reassured and that assurance, we have brought.
"Trust me, trust Fayemi, the president is here, he will give Fayemi all the support he needs to clear all the salary, pension arrears so that the economic life of Ekiti is revived."