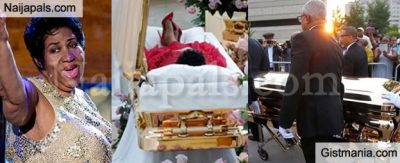 Yesterday, hundreds of fans gathered to pay their respects as Aretha Franklin's body was put on public display in Detroit.
The 76-year-old soul singer was placed in a gold open casket at Charles H. Wright Museum of African American History, to lay in state for two days. Fans will also be able to tune into a live steam of the public visitations should they not be able to attend the Detroit viewing.
Following the public viewing and memorials, Aretha will be laid to rest at Woodlawn Cemetery and Conservancy in New York. The legend died earlier this month following a battle with pancreatic cancer.
Former President Bill Clinton will speak at Aretha's memorial, at the Chene Park Amphitheatre, in Detroit on 30th August while her funeral will be held the next day at Greater Grace Temple, with Stevie Wonder rumoured to be performing at the intimate gathering