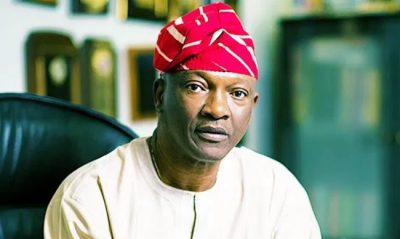 Jimi Agbaje, governorship candidate of the Peoples Democratic Party (PDP), says the defection of Wale Oluwo, Lagos commissioner for energy and mineral resources, from the All Progressing Congress (APC) shows the ruling party is crumbling.
In a statement issued on his behalf by his campaign office, Agbaje said the empire of the APC is beginning to fall into pieces.
Oluwo dumped the APC for the PDP on Tuesday, accusing leadership of the ruling party of being anti-democratic in the process through which Babajide Sanwo-Olu emerged as the flagbearer of the APC in the 2019 governorship election.
In his reaction to the defection, Agbaje made a biblical allusion to Babylon, likening APC to the fallen city.
"I am gladdened by the news of my brother's defection to the PDP. Indeed, it is a welcome development which must be lauded and applauded by all lovers of freedom and democracy," he said.
"By this singular gesture, Oluwo has counted himself worthy as a man of integrity. I look forward to teaming up with him to liberate our dear state from the shackles of bad governance and corruption.
"Babylon is Falling, APC is crumbling.bThe Honourable Commissioner has displayed uncommon courage by the decision. He is a good example for others to follow as this empire begins to fall to pieces.
"I look forward to teaming up with him to liberate our dear state from the shackles of misgovernment and corruption."
Agbaje had said he would not only win the election but beat Sanwo-Olu, his closest rival, flat. (The Cable)