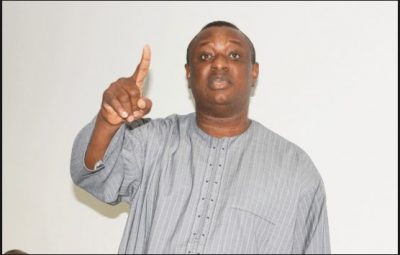 Festus Keyamo (SAN) have flagged down some of the appointees of the President stating that although Muhammadu Buhari is a person of integrity, he cannot vouch for the integrity of his appointees.
Keyamo who is the Director, Strategic Communications, Buhari Campaign Organisation, made this known in an interview with newsmen.
NIGERIA NEWS gathered from reports that the Interview was centered around allegations that there were nepotism and backdoor recruitment at the Central Bank of Nigeria, CBN, and other public institutions.
According to him,"Remember there was a time when there was an outcry that they shortlisted certain people or there were more people from certain parts of the country. Like I said when these things come out and they come to the knowledge of the President, what does he do?"
"Do you really expect the President to sit down and compile names of those to employ in MDAs? We cannot vouch for people who work for him. I am saying that openly. I cannot vouch for them. Do you expect the President to sit down, take his pen and begin to shortlist people one by one?
"When the issue of shortlisted candidates was brought to the public knowledge, that it tilted to some areas, he stopped the process."