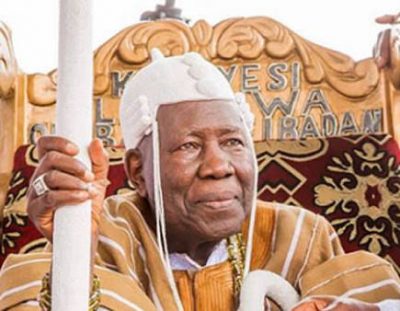 The Olubadan of Ibadan land, Oba Saliu Adetunji, on Wednesday described the Ibadan high chiefs elevated to the position of kings by the Oyo State Governor, Abiola Ajimobi, as a disgrace to royalty.
He said their continued disobedience to him (the Olubadan) might cost them the opportunity to become the Olubadan one day.
In a statement signed by the monarch's Personal Assistant/Director of Media and Public Affairs, Adeola Oloko, in a response to the kings' declaration that they were responsible for the stoppage of the Olubadan's salary because of his (monarch's) failure to recognise their new obaship status.
Oba Adetunji said it would be illegal for anyone to recognise them as kings after the ruling of Justice Abimbola Aiki of the Oyo State High Court, which declared their elevation as illegal, null and void.
The statement said, "On page 13 of the Western State Chieftaincy Declarations Ibadan City Area titled Declaration Made under section 4 (3) of the Chiefs Law 1957 of the customary law regulating the selection of the Ekerin Balogun of Ibadan Chieftaincy, it was stated that any junior chief found guilty by a meeting of the chiefs for disregarding and disrespecting the position or authority of the Olubadan or of a senior chief under the Native Law and custom might not be eligible for promotion to the Olubadan stool.
"Disregard or disrespect shall mean acts of refusal to pay necessary customary obeisance and flouting of superior customary authority. In other words, all these artificial kings are simultaneously guilty by utterances of an act of recklessness. None of these artificial kings can be promoted to the throne of Olubadan behind the back of Olubadan.
"The Otun Olubadan, who calls himself Oba Lekan Balogun like any of those artificial kings, must pass some acid test in the presence or absence of an Olubadan of Ibadan, it is, therefore, necessary that the High Chiefs who prefer to call themselves obas must be careful and eschew reckless statement on the Olubadan, as an attack on Olubadan is automatically an attack on Ibadan land."
On the recognition being sought by the elevated high chiefs, Oba Adetunji said since a court ruling that declared the process of their elevation by the governor null and void had not been vacated; the high chiefs could not enjoy the obaship status.
"The reservation of Ibadan people to the controversial installation of High Chiefs as kings by Governor Ajimobi is another matter. How long will the state continue to protect the individuals against the tradition and customs of their people? The working tools of any Olubadan and his council remain the Ibadan Chieftaincy Declaration, the Oyo State Chiefs' Law and Oyo State Obas and Chiefs laws. The embattled High Chiefs do not seem to have copies of the working tools, going by their recent statement.
"By law, custom and tradition, the Olubadan is the president of  the 11 Local Government Traditional Councils in Ibadan land. The embattled high chiefs who are today claiming responsibility for the seizure of the salaries are mere representatives of the first-class monarch and they occupy their positions at the Local Government Traditional Councils at the pleasure of the Olubadan." (Punch)