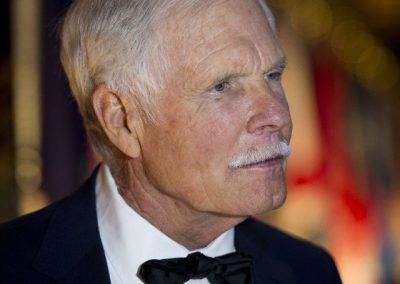 US billionaire media mogul Ted Turner, the founder of CNN, has revealed he is battling Lewy body dementia, a neurodegenerative disease that alters memory, mood, movement and behavior.
In an interview to air Sunday on CBS, the 79-year-old Turner opened up about his battle, and even struggled to remember the name of the disorder.
"It's a mild case of what people have as Alzheimer's. It's similar to that. But not nearly as bad. Alzheimer's is fatal," Turner said, in excerpts released by the network.
"Thank goodness I don't have that. But, I also have got, let's — the one that's — I can't remember the name of it."
Finally, Turner said: "Dementia. I can't remember what my disease is."
Lewy body dementia affects 1.5 million Americans. Notably, comedian Robin Williams was afflicted by the disease before he took his own life in 2014.
Like Williams, Turner told "CBS Sunday Morning," he was misdiagnosed with depression before doctors identified dementia as the true problem.
Asked about his symptoms, he replied: "Tired. Exhausted. That's the main symptoms, and, forgetfulness."
In 1980, Turner launched CNN, the first 24-hour news channel, as part of his Turner Broadcasting empire — revolutionizing the way America, and the world, got its news. Turner Broadcasting System then merged with Time Warner in 1996.
When asked about CNN, Turner said: "I think they're sticking with politics a little too much. They'd do better to have a more balanced agenda. But that's, you know, just one person's opinion."
Turner is also known for his decade-long marriage to actress Jane Fonda and his billion-dollar pledge to the United Nations to fund charitable efforts. (Yahoo News)