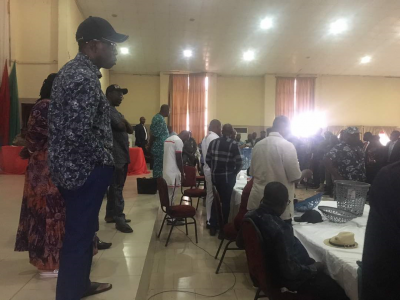 The atmosphere at the Greater Eagle Hall, Ado Ekiti, capital of Ekiti state, is tensed up at the moment as Dayo Adeyeye and Kolapo Olusola, the two aspirants seeking the ticket of the Peoples Democratic Party (PDP) in the July 14 governorship election, are inching close to each other in collation of votes.
Olusola, the incumbent deputy governor of Ekiti, is the preferred aspirant of Ayodele Fayose, governor of the state.
A total of 1968 delegates were accredited for the exercise, which has been peaceful since 10am when it started.
Voting ended at 5:05pm and the committee chaired by Ifeanyi Okowa, governor of Delta state, gave the aspirants the opportunity to comment about the poll and they both expressed satisfaction.
When the ballot papers were sorted in two different baskets, the difference between the two aspirants was insignificant.
As agents had their fixed on the baskets, supporters moved from one end of the hall to the other.
TheCable had asked Fayose to comment about the exercise and he said: "Interesting."
He was later heard telling one of his aides: "Too close, I can't believe it."
Votes were being counted as of the time this report was filed.  (The Cable)