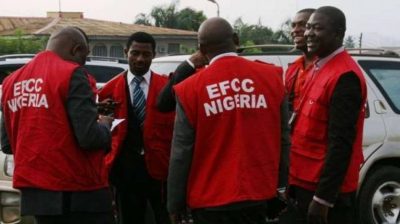 The Economic and Financial Crimes Commission (EFCC) says it has arrested a pastor over an alleged N1.8 billion contract scam.
Wilson Uwujaren, spokesman of the commission, disclosed this in a statement in Abuja on Thursday. He identified the suspect as James Ezekiel.
He said Ezekiel claimed to be the presiding pastor of One Touch Power Ministry, Agudama, Epie, in Bayelsa.
He said the suspect was arrested by EFCC operatives at the Port-Harcourt zonal office of the commission.
He added that the suspect allegedly defrauded an unsuspecting victim of N1.3 million by deceiving him to enlist as one of the "financiers" of a spurious N1.8 billion contract.
"Ezekiel claimed to have won a contract for the roofing of a church cathedral belonging to the Salvation Ministries in Port-Harcourt, Rivers," he said.
"He reportedly put the contract sum at N1.8 billion and showed a contract award letter to his victim.
"Ezekiel promised the victim mouth-watering interests on his investment."
However, trouble started when the victim demanded repayment of his money with interests, which he couldn't pay immediately.
Uwujaren said the suspect delayed in making the payment by deceiving the victim that he had been paid N800 million as mobilisation fee for the contract.
He said Ezekiel lied that he could not access the funds because his company's account had been frozen by the EFCC.
The suspect was said to have also contrived a fake EFCC e-mail message notifying the victim of the frozen account.
The victim was said to have suspected foul play and petitioned the commission to help him reclaim his money.
"Further investigations showed that the Salvation Ministries did not award any contract to Ezekiel and no transfer of N800 million was made into his company's account," Uwujaren said.
"Besides, the e-mail address he ascribed to the EFCC does not belong to the commission.
"The suspect allegedly initiated the scam to fraudulently obtain money from the petitioner and other unsuspecting m,embers of the public.
"The suspect is in the custody of the EFCC and will be charged to court soon."