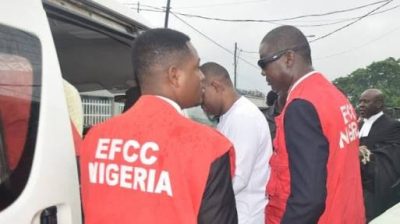 The Economic and Financial Crimes Commission has charged the Managing Director of Heritage Bank Plc, Ifiesimama Sekibo, and five others before the Lagos State High Court in Ikeja for an alleged fraud of N1bn.
Sekibo was charged along with Dimire Dike, Wumi Adeniyi, Kolapo Daisi, Funmilayo Taiwo and Akeem Durotoye.
The charges border on conspiracy, stealing, obtaining money under false pretences, forgery among others.
The EFCC alleged that the defendants obtained the sum of N1bn from Heritage Bank Plc "by falsely representing the sum as proceeds of Vlamings Professional Limited's investment in Heritage Bank Plc."
It accused them of dishonestly converting the N1bn, being Heritage Bank's property, to their own.
They were accused of forging a document titled, "RE: Expression of Interest in Agric Fund Management Scheme."
According to the anti-graft agency, the defendants allegedly forged the document dated April 2, 2015, "purporting it to be a loan scheme executed in favour of Vlamings Professionals Limited."
The EFCC claimed that the defendants sent the document to it (EFCC), hoping it would be mistaken to be genuine.
They also allegedly forged another document titled, "Agric Management Scheme" purporting that it was approved by Heritage Bank Plc.
In the 10th count bordering on accessory to an act or offence contrary to sections 8(b) and 1(3) of the Advance Fee Fraud and other related offences Act, 2006, the EFCC accused Dike, Adeniyi and Akeem of "procuring false Heritage Bank agric fund scheme documents as a means of disguising the evidence against the said bank's staff to enable them to escape prosecution."
Counsel for the EFCC, Ekene Iheanacho, said the defendants committed the offence between February 2015 and February 2017.
According to him, among others, they allegedly acted contrary to sections 285(8), 363(3)(h) and 364 of the Criminal Law of Lagos State 2011.
The court has yet to fix a date for the arraignment of the defendants.  (Punch )