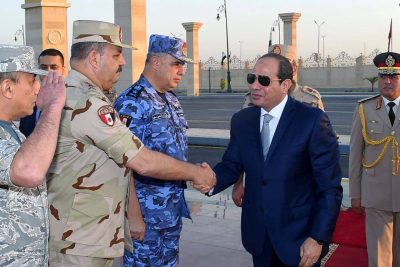 Egypt's parliament passed a law giving the government sweeping powers to regulate traditional and social media, a move critics say will boost the Sisi regime's ability to crack down on free speech and dissent.
The measure allows authorities to penalize traditional media like television and newspapers for spreading what the government terms fake news. It also treats social-media accounts with more than 5,000 followers as media outlets, opening Twitter and Facebook users to prosecution on vague charges including defaming religion and inciting hatred.
Most prominent media outlets in Egypt are pro-government, and some analysts and rights groups see the law as an aggressive attempt to restrict social media, which remains one of the few remaining arenas of free expression in a country where independent news websites are often blocked and unauthorized street protests banned.
"These laws would legalize this mass censorship and step up the assault on the right to freedom of expression in Egypt," said Najia Bounaim, North Africa campaigns director at Amnesty International, commenting on the law and related legislation ahead of the vote.
The government's move to clamp down on social media comes as President Abdel Fattah Al Sisi consolidates power after winning an election in March in which his only credible rivals were jailed and removed from contention. In recent months, the government has detained several prominent opponents and Mr. Sisi has concentrated power in himself and a small group of advisers.
The media law is part of a wave of legislation in Mr. Sisi's second term some analysts say is designed to prevent a repeat of the 2011 popular uprising that ousted former President Hosni Mubarak, who led Egypt for nearly 30 years.
The head of the Egyptian media regulatory body, Makram Mohamed Ahmed, said the new law was intended to counter "efforts aimed at a negative influence on public opinion."
Also on Monday, Parliament passed a separate law that grants judicial immunity to some top military officers for acts committed after the 2013 takeover that ousted former President Mohammed Morsi. Critics say the legislation bestows immunity on the military leadership for the political violence that came after the coup led by Mr. Sisi, who was minister of defense and a general at the time.
The spreading of false news is already a crime under the Egyptian penal code, but rights groups believe that inclusion of social-media accounts in the new law suggests prosecutors could expand Egypt's existing crackdown, more aggressively targeting internet users for statements criticizing the regime.
Mr. Sisi in recent months has faced a tide of online criticism over the country's lack of political freedom and over his government's overhaul of the economy, which has orchestrated a modest 5.4% growthalongside soaring prices of essential items like food, fuel and subway fares in Cairo.
In June, tens of thousands of Twitter and Facebook users joined an impromptu campaign calling on Mr. Sisi to step down. The hashtag "Sisi leave" (irhal ya Sisi) trended on Twitter in Egypt for days, angering his supporters.
Egyptian authorities in recent months have arrested several journalists, researchers and government critics. Even foreign visitors haven't been spared from the security forces' crackdown.
This month, a Cairo court sentenced Mona Mazbouh, a 24-year-old Lebanese tourist to eight years in prison on charges including disturbing public order and using indecent and sexual language for posting a Facebook video in May in which she complained about sexual harassment in Egypt.
"By giving my daughter such an unfair sentence, Egypt indirectly opened itself to international condemnation," said Wedad Mazbouh, the woman's mother, in an interview. "They could have deported her and banned her from entering the country."
In February, the security services arrested and deported Bel Trew, a British correspondent for the Times of London, without offering a justification. In a separate case, University of Washington doctoral student Walid Salem was arrested in May on charges of spreading false news and belonging to a terrorist group, among other accusations. Mr. Salem was in Egypt conducting dissertation research on the Egyptian judiciary when he was detained. (Wall Street Journal)