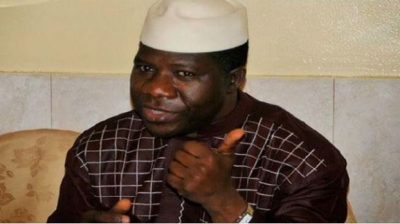 Kayode Fayemi, candidate of the All Progressives Congress (APC)  in the July 14 governorship election in Ekiti state, has named Opeyemi Bamidele, former member of the house of representatives, director-general of his campaign.
Fayemi made this announcement on Sunday at the inauguration of his mobilisation and campaign committees in Ado-Ekiti.
Fayemi  said the former lawmaker, who was recently shot during a rally, was recovering fast  and would assist him during his campaign.
He also debunked reports that the former lawmaker had been flown abroad for treatment.
"By the special grace of God, I have appointed my good friend, Mr  Bamidele  Opeyemi,   as the Director General of my campaign," Fayemi said.
"I equally also want to thank God for sparing his life.  I was with him till 1.am this morning and he is recovering well and he can also sit and discuss with me.
"I wish to inform all journalists in Ekiti  that my friend, Mr Bamidele Opeyemi,  is in good condition'  he is still in Nigeria contrary to the stories that was published in some of the newspapers  that he has travelled abroad."
Fayemi said  Bamidele is healthy and ready to work with him to ensure that their party wins  the governorship election.
A total of 11 committees made up of  87 party  members  were  inaugurated by  Fayemi.
Some of the committees include media and communication to be handled by Taiwo Olatunbosun, policies and strategy to be handled by Biodun Omoleye  and finance to be handled by Niyi Adebayo