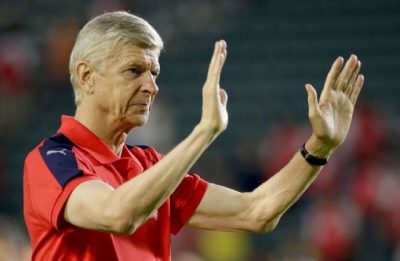 Tributes and encomiums have been pouring in since Arsene Wenger announced that he will quit as the manager of Arsenal at the end of the season.
He made his intention known in a press statement on Friday.
Sir Alex Ferguson, Wenger's longtime rival, has described the Frenchman as "one of the greatest Premier League managers".
The Frenchman has been in charge of Arsenal since 1996.
"I am pleased he has announced he is leaving at this stage of the season as he can now have the send-off that he truly deserves," Ferguson told BBC Sport.
"He is, without doubt, one of the greatest Premier League managers and I am proud to have been a rival, a colleague and a friend to such a great man.
"It is great testament to his talent, professionalism and determination that has been able to dedicate 22 years of his life to a job that he loves."
Nigerian football legend Kanu Nwankwo, who joined Arsenal from Inter Milan in 1999, described Wenger's exit from the club as a big vacuum.
The 1996 Olympic gold medallist took to his Instagram page to pay a glowing tribute to Wenger.
Robin Van Persie, former Arsenal striker, also thanked Wenger for his faith in him during his time at the club.
Thanks Arsene for all your confidence in me over the years. You are a very special man & a top coach! Definitely one of the very best ever! 1/2 pic.twitter.com/6Ry174GCIS

— Robin van Persie (@Persie_Official) April 20, 2018
Former England and Manchester United midfielder Gary Neville said Wenger built the best teams he played against in English football.
Arsene Wenger built the best teams that I played against in English Football .The 98 team was Amazing.The biggest compliment is that he played football that made us change the way we played against them. He now deserves the most incredible send off from all in the coming weeks.

— Gary Neville (@GNev2) April 20, 2018
Gary Lineker, a Tottenham Hotspur legend, also paid tribute to the Frenchman.
Arsene Wenger is to leave @Arsenal at the end of the season. He has given much of his life to Arsenal. He has brought much success to the club. He has given much to the game of football in our country. Merci et bonne chance, Monsieur Wenger. #Wenger

— Gary Lineker (@GaryLineker) April 20, 2018