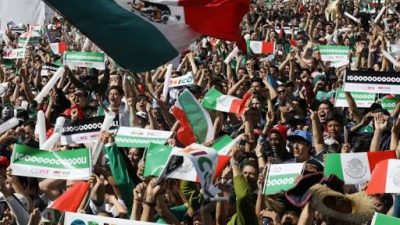 FIFA has imposed a 10,000 Swiss Francs sanction on the Mexican Football Federation (FMF) over the misconduct of a group of Mexican fans at the ongoing World Cup in Russia.
In a statement on Thursday, FIFA said the disciplinary measure was in line with article 67 of its disciplinary code.
The FIFA disciplinary committee accused the fans of discriminatory and insulting chants.
The offense was committed during the first half of the match played between Germany and Mexico on Sunday at the Luzhniki Stadium in Moscow.
The game ended 1-0 in favour of Mexico.
"The decision was passed after a thorough assessment of the relevant match reports, the FMF's precedents and the evidence provided," the statement read.
"Moreover, the Disciplinary Committee gave a warning to the FMF, who may face additional sanctions in case of repeated infringements of this type."
The committee, headed by Yeboah Anin, also sanctioned the Serbian Football Association (SFA) with a fine of 10,000 Swiss Francs for the display of an offensive and political banner by Serbian fans.
This was said to have happened during the Group E match played between Serbia and Costa Rica on Sunday at the Samara Arena.
The committee said it took its decisions after analysing all specific circumstances of each case.
"These, in particular, were the match officials' reports, the position adopted by the association (if any), as well as the relevant evidence available," it said.
"This included the report of the anti-discrimination match observers, who have been deployed for the first time at a FIFA World Cup."
The football governing body maintained that a series of measures to fight discrimination and promote diversity have been implemented, including an anti-discrimination monitoring system, which has been active since 2015.
"This has been in place to observe and report on all 871 matches of the 2018 FIFA World Cup qualifiers and all matches of the FIFA Confederations Cup 2017 and the 2018 FIFA World Cup," the FIFA committee said.
FIFA has also published a guide on diversity and anti-discrimination to support all of its member associations. (The Cable)