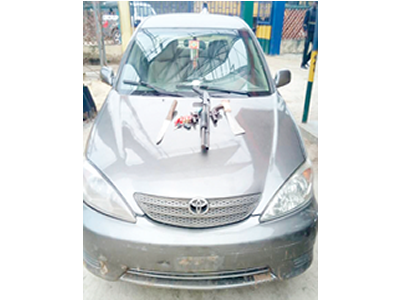 Five people were killed when two rival cult groups clashed at Alapere area of Ketu, Lagos.
It was learnt that on Tuesday about 11p.m. some members of Eiye confraternity stormed a car wash belonging to the leader of Aiye cult group, identified simply as Baba Azeezat, at Demurin Street, and hacked him to death.
To avenge his death, some members of the confraternity from Ikorodu, stormed Mascara area on Wednesday night and killed three members of Eiye confraternity.
But while escaping, the police shot dead one of the cultists during a shootout.
A Hausa trader, Mr. Haruna Abdulahi, said he was in his kiosk when some boys who dressed in black clothes came through Fagbamila Street and entered the car wash which also houses a beer joint.
He said: "When the deceased heard the bang on his gate, he came out to check what was happening. Before he knew what was happening, the Eiye cult members hacked him with a cutlass.
"Before people could rush to the scene, the assailants had escaped on the motorcycle they came with. They were also shooting sporadically to scare people away as they were fleeing."
Abdulahi added that Baba Azeezat was immediately rushed to a nearby hospital where he was later confirmed dead by the doctor on duty.
A 'vulcanizer,' who gave his name as Tunji, said on Wednesday about 6p.m. there were sounds of gunshots from Mascara area.
He said: "That was how everybody hurriedly locked up their shops and fled. It was this morning (yesterday) when I got to my workshop that I was told that three persons were killed in retaliation of the death of Baba Azeezat.
"It was the policemen who came that gave us the assurance to go back to our shops that is why we are here now. But we are on alert."
But in a swift response, the state Commissioner of Police, Imohimi Edgal, ordered police detectives to cordon off Ketu and its environs.
The state Police Public Relations Officer (PPRO), CSP Chike Oti, said the onslaught against the twin evil of armed robbery and cultism in the state ended on a high note on Wednesday about 8.30p.m., when policemen intercepted a rampaging criminal gang and killed one of them during a gun battle.
He said: "A tip-off from a well-meaning citizen to the Divisional Police Officer in charge of Owode Onirin changed the game for the terror gang who had about 7.40p.m., at Demuren Street, Alapere, stabbed 32-year-old Sylvester Chikwendu, suspected to be a rival cult member, to death.
"Sequel to the information, the DPO mobilised a crack team to Thomas Bus Stop, Owode. He told his men to narrow the road and gave them a clear description of the gang's operational car.
"When the gang approached the police zone, they became desperate and opened fire on the operatives in an effort to evade arrest. The police officers returned fire for fire.
"However, in the ensuing gun battle, one of them died owing to bullet wounds sustained during the fight while the others escaped with varying degrees of gunshot wounds. They abandoned their operational vehicle, a Toyota Camry car without registration number."
Oti said one pump action rifle, one locally-made revolver pistol, one locally-made single-barrelled pistol, five live 9mm calibre ammunition, three live cartridges, two expended cartridges, two cutlasses, charms (Juju) and assorted clothing were recovered from the cultists.
He added: "The Police Commissioner said that the quick resolution of a crime that started at Alapere should signal criminal elements that the security in place in the state is virtually impregnable.
"He also appealed to health care professionals including native doctors and other care givers to be on the lookout for patients with gunshot wounds and inform the police within two hours of commencement of treatment in line with the Compulsory Treatment of Victims of Gunshot Act."  (New Telegraph )