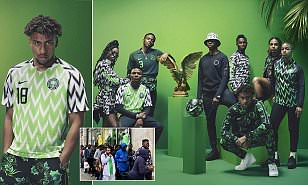 Football fans have gone crazy for Nigeria's new Nike kit as they queued up along Oxford Street on Friday morning to get their hands on it before it sells out.
The kit has been a huge hit with fans for it's retro look and received over three million pre-orders according to the Nigerian Football Federation before it finally went on sale.
Nigeria will debut the in-demand kit in their friendly against England on Saturday evening at Wembley as they continue to prepare for the World Cup.