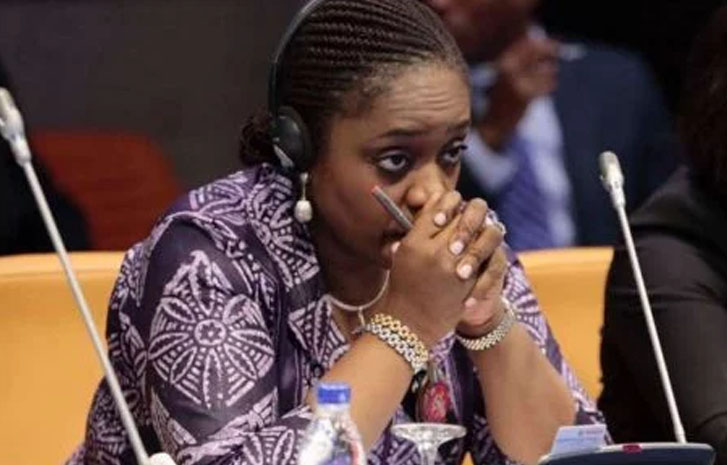 Kemi Adeosun, the British-born Nigerian former finance minister whose counterfeit youth service scheme certificate led to her resignation last year, is under investigations over some untoward activities during her tenure, according to sources related to the matter.
Daily Independent learnt that she was forced back to the country two weekends ago to respond to some issues pertaining to her time as head of the finance ministry.
The development, according to our sources, is not unconnected with the attempt by the Federal Government to reassure Nigerians that it is on course to prosecute any official tainted by corruption, no matter how highly-placed.
Indeed, the focus on Adeosun is making some observers to say that the President Muhammadu Buhari's anti-graft war appears to have begun a gradual inwards turn to members of his political party and high ranking government officials like the immediate past finance minister.
Sources told Daily Independent that the former finance minister had long been invited for questioning over a number of allegations but that she had refused to respond until a threat was issued, which forced her to quickly fly into the country between Friday 1 and Sunday, February 3, 2019.
She is said to have spent two days answering questions put to her by operatives of the Ibrahim Magu-led Economic and Financial Crimes Commission (EFCC), as well as the Special Presidential Investigation Panel on the Recovery of Public Property (SPIPRPP), chaired by Okoi Obono-Obla.
"They basically confronted her with documents regarding some activities that she had been involved in while she was minister of finance," said someone close to the matter who pleaded anonymity since the issue was still developing.
Daily Independent learnt that some of the issues tendered against her include those related to the disbursement and distribution of Paris Club funds to states and the Voluntary Assets Declaration (VAIDS), which she supervised.
Federal investigators are specifically seeking to find out the extent of her involvement in the allegation contained in the documentary evidence she was confronted with.
Adeosun, who was in office between November 2015 and July 2018, allegedly flew into the country discreetly some days ago and was detained for two days by federal investigators and was released penultimate Sunday, after she swore to an undertaking.
In fact, there were talks weekend about an agreement to refund some money following the encounter with the anti-graft agency officials, but this is being handled in hushed tones.
The former minister was asked questions about activities she undertook as minister, some of which involved her personally and some involving her husband, a businessman who later became one of her consultants at the ministry, and another associate, who was a former commissioner in one of the South West states before becoming one of her aides at the Ministry of Finance.
Investigations revealed that the latest discovery was by the combined team of investigators from the EFCC and the Presidential Panel on Recovery of Assets.
But Ibrahim Magu, the EFCC boss, neither responded to text messages sent to him nor calls made to confirm the story.
Specifically, snippets of Adeosun's alleged corrupt practices started coming out in the wake of the controversies on the distribution of the refund of the Paris Club debt to state governments.
In fact, chairman of the Governors' Forum and governor, Zamfara State, Abdulalazeez Yari, had at that period raised the dust, accusing officials of the ministry of conniving with consultants to collect kickbacks from the state governments on the Paris Club refund.
Consequently, investigators from the EFCC and the Presidential Panel swooped on the allegations by the Nigerian Governors' Forum and started discreet investigation at the finance ministry while she was still in government.
After months of investigations, Adeosun was allegedly indicted while her two cohorts were fingered as her accomplices in series of corrupt practices involving kickbacks from state governments on Paris Club refund, local contractors on payment of some domestic debts, and some of the consultants appointed to handle the Voluntary Assets Declaration (VAIDS).
It was further learnt that investigators discovered that one of the consultants, an advertising agency, allegedly inflated the contract sum from which kickback running into tens of millions was paid.
Adeosun, who was first summoned by the federal investigators in December, could not appear immediately for fear of detention, and was said to have solicited the assistance of lobbyists to soften the ground for her appearance.
She appeared two weeks ago and was grilled for two days during which she was shown several documents and evidences of her alleged corrupt practices.
Sources at the EFCC, who confided in our investigative group, confirmed that Adeosun allegedly admitted committing the crimes and agreed to return a substantial part, which runs into billions of naira.
Adeosun is believed to have been nominated for the ministerial job by Ogun State governor, Ibikunle Amosun, a close ally of the president.
The latest development brings to three the thorny cases Adeosun has had to deal with. The former minister was forced out of office following a case involving the forgery of an NYSC exemption certificate, which was discovered to have been allegedly procured for her before she started work at ChapelHill Denham Chapel, founded by Bolaji Balogun.
She was also given soft landing at Dunham Chapel by management who asked her to resign after she was accused of anti-company activities.
Now, with the latest discovery by a combined team of investigators from the EFCC and the Presidential Panel on recovery of government assets, Adeosun, who was lauded for setting up the Efficiency Unit in the Ministry of Finance and other ministries, has found herself being called out once again. (Daily Independent)