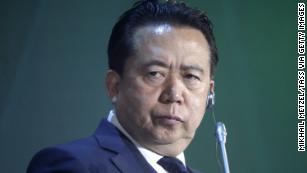 Interpol president Meng Hongwei appears at an International Cybersecurity Congress in Moscow in July.
Police in France have opened an investigation into the disappearance of Interpol president Meng Hongwei, a police source with direct knowledge of the case told CNN Friday.
Meng's wife last heard from him 10 days ago, a spokeswoman for Interpol told CNN, declining to give her name. She refused to say if Meng was on official business in China when he was last heard from.
"Interpol is aware of media reports in connection with the alleged disappearance of Interpol President Meng Hongwei. This is a matter for the relevant authorities in both France and China," Interpol said in a statement. "Interpol's General Secretariat headquarters will not comment further."
CNN is awaiting a response from the prosecutor's office in Lyon, France, where the international crime fighting and police cooperation agency is based.
French national police and the French Interior Ministry declined to comment on the story.
CNN has also sought to contact Chinese authorities, but it is a public holiday in China.
Meng, who was formerly China's vice minister for public security and a head of Interpol China, was elected president of Interpol in November 2016.
He was the first Chinese official to become Interpol president, Chinese state news agency Xinhua said at the time.
The secretary-general of Interpol is responsible for the day-to-day running of the organization. (CNN)