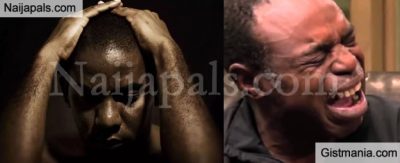 According to a narration by a twitter user with the handle @wenogetjob, a certain tenant used his landlord's apartment to dupe some vendors to the tune of N50 million.
In a series of tweet on the social media platform, the user said he overheard a couple discussing the issue and he waited to listen to the entire story.
In his narration, the tenant had approached the landlord and requested to rent his apartment for just a period of 2 months with the excuse that he was traveling out of the country and was only in Lagos to process his Visa.
He then went to meet vendors selling expensive household appliances to get these items on credit and even brought them to his home so they feel at ease since they know where he lives. Not knowing the man had an evil intention to dupe them.

Read his narration below:
Hey peepz, I have a gist tho I don't know if it's true or not..But I will say it Sha. I was just walking on the street 2receive fresh air when I saw a couple. d man was telling his wife about an incidentI kukuma slowed down an walked behind them to hear d full gist.
It was more like a scam story. A certain man walked up to a Landlord in our area and requested to rent his apartment for 2 months, with the excuse that he was traveling to Canada and just came to Lagos for the Visa Processing.. They agreed on 150K.
The man paid and took ownership of the apartment.He then went out to Vendors in town and negotiated to buy expensive items on lease. With installment payment plans.. He was said to have collected home appliance worth N50,000,000 from various vendors.
He then took them all to the apartment one by one to build trust. At least once they know he lives there, they can easily come around and pack their stuffs if he defaults, these people didn't know what would hit them was going to be deadlier than Tsunami.
As agreed with the Landlord, the man packed out even earlier than expected… Left with all the items, of which he had not finished the payment..and the Landlord was so happy to have struck a better deal He immediately rented out the apartment to another family.
One by one, the creditors began to come in and same story was relieved to them.. Some fainted, some threatened hell fire …. To cut the long story short, Baba Ijebu was arrested alongside the new tenant.. You know Naija now… #POLICE  no wan hear wuen
They were only saved after a Landlord intervened. He is a legal practitioner and took up the case. But sincerely speaking. I wonder how some people feel at rest knowing fully well their victims would suffer.  I guess it all centers on lack of conscience. This is bad.