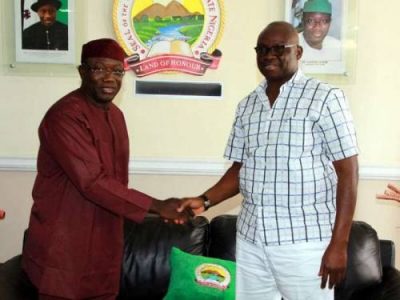 Scene I
It's the zero hour. Nobody slept all night. Everything is set for the war. Commanders are busy, surreptitiously dispatching orders and supplies to the frontlines. The night before the war is the most crucial night. It's the night before the dawn of victory or the groan of defeat. It's also the night treachery wears the cloak of loyalty, clinging tightly to the battledress of the commander-in-chief, with eyes glazed on the treasury chest. What a night!
Today, the sun, wary of the task ahead, stirred slowly in the East. But it is screened off by the green canopies of the bended boughs of the baobabs, mahoganies, irokos, palms and sycamores in the thick forests of Ekiti. Hot and cold water cascade down the hills of Ikogosi. Even the cock knows it's not yet time to announce the break of a new day. The wards are secretly awake, though the world is still asleep. Men are at work as the clock tick-tocks.
National anthem:
Arise, O compatriots
Nigeria's call obey
To serve our fatherland…
Continuity announcer: I say a very good morning to you, our cherished listeners, out there. This is Ekiti Kete Broadcasting Service, transmitting on Frequency 41.9. I welcome you to our first programme of the day, "Ekiti Decides." As you all know, 35 candidates are set to slug it out in today's governorship election. I'll take you right into our studio where our indefatigable politics editor, Dimeji Ologbenla, is waiting. Over to you, Dimeji.
Ologbenla: Thank you, Wale Aberuagba. Good morning, Nigeria. You're welcome to another edition of your incisive programme, "Ekiti Decides." Today, we shall be analysing the election results as they trickle in from the 177 wards of the 2, 185 polling units in the 16 Local Government Councils of the state. The total number of registered voters for this election is 913,334 but only 630,000 voters have their PVCs in readiness for this landmark election. I have with me in the studio Comrade Tunji Aduroja, Alhaji Mukaila Ehinola, Apostle Jesusegun Olorunjeda, and an Ifa worshipper, Baba Ifaleke Famoriyo. Your opinions, gentlemen.
Apostle: Sincerely, I think the wave of defections within the ruling party is going to affect the outcome of the election. Elections are won by people and not stones. When you have key people defecting from your party, the end result won't be palatable.
Comrade: The power of incumbency will play a major role. Remember, Nigerian politics still feeds fat on violence. Any of the party that controls the mechanisms of violence will have an edge.
Alhaji: Money will play a deciding factor in this election. Ekiti civil servants are hungry; they're being owed several months of salary arrears. Anybody who dangles the carrot will have their votes. The fatter your carrot, the higher your votes.
*Written By Tunde Odesola