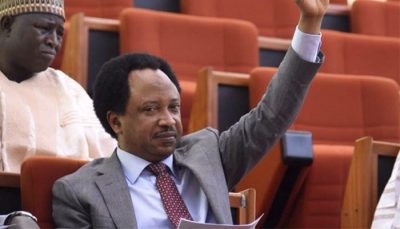 A senator, Shehu Sani, has said he is yet to decamp from the All Progressives Congress (APC) to any other party.
He made this known on Friday in a press statement made available to PREMIUM TIMES as well his Facebook and Twitter pages.
"I'm yet to defect or decamp or migrate from the APC to any other party.
However,discussions and consultations are ongoing as regards to our future in the party.
"Decision will be taken in a matter of week or two whether to remain in the party of migrate. And when the time comes, I'll make a formal announcement on the floor of the Senate and my Facebook and Twitter handle.
Thank you," the statement read.
While on his social media pages, he wrote, "Clarification; I'm yet to leave the Broomcity FC for the Umbrella united or any other club on the Premier league. Discussion and consultations are ongoing.
"If such will happen,it will be backed by a signed formal letter to the club management;And a formal announcement on the side of the pitch by myself.Thank you."
Mr Sani has, several times, hinted of his imminent departure from the APC; capturing his irreconcilable differences with the party.
Earlier this month, he had used biblical terms to to announce his possible departure from the party.
"We the persecuted are on Exodus, riding on horses,chariots and caravans, departing Pharaoh Thutmose's Egypt; we are now at the coast of the Red Sea, about to leave the land of cruelty and injustice," he had said posted on his Facebook page.
The lawmaker's "clarification" comes barely 24 hours after a faction of the APC known as APC Akida and members of APC Restoration group in Kaduna state, dumped the ruling party.
According to the two groups, they decided to dump APC because the party had failed to meet the expectations of millions of Nigerians who voted for the party.
Although Mr Sani, who is a member of the Akida faction, was absent at the briefing, the groups, however, did not mention the new party they will be joining but said serious consultation was ongoing with political parties that share their values.
Mr Sani, elected to the Senate for the first time in 2015, did not participate at the party's congresses held a few weeks ago. He was rumoured to be on his way to the Social Democratic Party (SDP) last month, although he later debunked the claim.
Together with Suleiman Hunkuyi, another APC senator from Kaduna State, Mr Sani threatened to dump the APC in May. Despite regular hints that Mr Sani was plotting to leave the APC, it remained unclear which political party he is bound for.
Even though he is considered one of the top allies of Senate President Bukola Saraki, his name has not been mentioned amongst those behind the renegade 'Reformed APC' clique that recently emerged.
The bloc is reported to be in talks with the Peoples Democratic Party to devise a formidable alliance against Mr Buhari in 2019. (Premium Times )