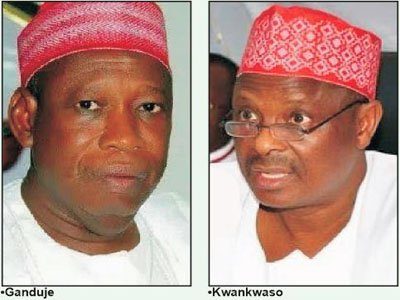 Associate Editor, Sam Egburonu, examines the battle for the political soul of Kano State and how it would play out if former governor of the state and current senator, Rabiu Musa Kwankwaso, is pitched against President Muhammadu Buhari
THE importance of Kano State in the 2019 presidential battle is no longer in doubt. This is primarily because of the large population and the fact that it came handy in 2015 as the swing vote that ensured President Muhammadu Buhari's victory.
So, as the northern aspirants file out for 2019 Presidential Election, the issue of who would mop up Kano votes is considered very critical. Shortly before Buhari's recent declaration to seek re-election on the platform of All Progressives Congress, Kano State Governor, Abdullahi Ganduje, reemphasised this fact when he boasted of his capacity to "mobilise and return five million votes for Buhari in 2019."
Although many critics, especially Senator Rabiu Musa Kwankwaso, have taken up the governor over the comments, it remains a confirmation of the interest and dependence on a repeat of the magic Kano votes played in the victory of the president in 2015. It would be recalled that the state gave Buhari the highest votes of 1,903,999 million votes in 2015. Although Peoples Democratic Party sympathizers cried out then, alleging that the figure was manipulated, it made the difference for Buhari as it ensured his victory.   Considering that Kano, whose registered voters for the 2015 general elections was only 4,943,862, and that today, it is said the state has about 10million registered voters, the strategic importance of Ganduje's assurances to Buhari cannot be dismissed with a wave of the hand. The Nation investigation shows that both Buhari supporters and the opposition PDP are not taking the battle of Kano lightly. While PDP supporters are calling on the party leadership to monitor how Kano votes are counted, we learnt that Buhari's relationship with Governor Ganduje is becoming even more robust as 2019 elections draw nearer.
The leader of the Northwest caucus in the House of Representatives, Alhassan Ado Doguwa, admitted that much when he said Buhari's popularity in the traditional areas of the North remains intact.
Cephas Adamu, Secretary-General of Numan Collective, a socio-political group based in Adamawa State, however confirmed that the challenge for BUhari would be if Senator Rabiu Musa Kwankwaso is contesting against him in Kano. He, like many other observers, is of the view that for Buhari to retain the Kano vote, he would need to handle the former Governor of Kano State, Senator Rabiu Musa Kwankwaso, with care to further boost his chances in the north. "The former Governor's Kwankwasiyya Movement," he said, "is widespread in the region and should not be ignored by the ruling party. He must realise and accept that especially among northern youths on the streets of Kano, Kaduna, Minna and Dutse, Kwankwaso is a cult figure. APC must try its best to keep him in the party."
As the scenario unfolds daily, and the political rivalry between former Governor Kwankwaso, the leader of the popular Kwankwasiyya Movement and his estranged political godson, Governor Ganduje deepens, observers are curious how Kano votes would be shared, especially if Kwankwaso eventually flies the presidential flag of a strong political party against Buhari and his party, the APC. Already, there is allegation that Kwankwaso may be the choice of former President Olusegun Obasanjo's Third Force. If this allegation turns out to be true, and if powerful northern leaders like former Military President Ibrahim Babangida and former Minister of Defence, General T. Y. Danjuma, who openly criticized Buhari, lend him support, it would be interesting to see how far he can tackle a Ganduje-backed Buhari, especially because Kano is generally known as Buhari's second home.    (The Nation)