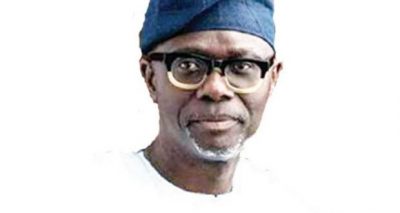 The race for who wins the gubernatorial ticket of the Lagos State chapter of the APC escalated up yesterday over an alleged withdrawal statement of a leading aspirant, Babajide Sanwo-Olu, circulated on both traditional and social media. It was history repeating itself because a similar fake withdrawal statement allegedly by Gov. Akinwunmi Ambode took the media space last week.
In the midst of ensuing fake news, Ambode's loyalists appeared to be gearing up for the APC primary slated for September 29, as they rolled out his achievements and endorsements he has so far garnered from personalities and groups.
Already, the Mandate Group, allegedly enjoying Tinubu's support, had zeroed in on the candidacy of Sanwo-Olu, who is the Chairman of the Lagos State Property Development Council (LSDPC).
Sanwo-Olu's emergence had created anxiety in the governor's camp amidst insinuations that Ambode might lose out in the primary on the ground that he had lost control of the party in the state.
Although Ambode has done everything possible to resolve the crisis with Tinubu and other party stalwarts with the assistance of President Muhammadu Buhari and other national leaders of the party, it still appears his fate was sealed at the weekend when the state party leadership insisted on a direct primary in which all contestants would participate.
Meanwhile, the purported statement authored by Sanwo-Olu withdrawing from the race has been denied by his campaign team. In the earlier statement, Sanwo-Olu allegedly stated that he decided to withdraw from the race after "personal introspection and due consultations with party leaders."
A statement by the Director, Media and Publicity of the Sanwo-Olu Campaign Organisation, Sesan Daini, said he was still in the race.