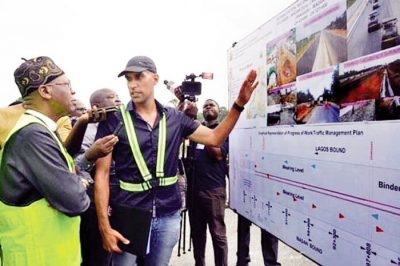 The Lagos-Ibadan Expressway will be ready before December, Minister of Information and Culture Alhaji Lai Mohammed has said.
He spoke yesterday while inspecting the N232 billion project handled by Julius Berger and Reynold Construction Company (RCC) as part of the tour of federal projects.
Mohammed kicked-started the inspection on Tuesday with the Minister of Transportation, Mr. Rotimi Amaechi.
He inspected the Lagos-Ibadan standard gauge rail line.
The 137-kilometre Lagos-Ibadan Expressway is divided into two sections.
Julius Berger is handling Section One at the cost of N134 billion. The section covers the Lagos-Sagamu Interchange.
RCC covers the axis from the Sagamu Interchange to Ibadan for N96 billion.
The project, which started in 2013, with initial completion date of 2017, is slated for completion this year.
There were initial hiccups, with the scope of work expanded.
In both axis, over 50  per cent has been achieved.
Mohammed said this was commendable because  traffic had been reduced.
Already, 17 kilometres – with three lanes on each side – have been completed, with drainage work going on.
Speaking after the inspection, Mohammed said the Federal Government would  put pressure on the contractors to ensure they deliver on time.
The minister assured the contractors that the government will ensure smooth and timely completion of the project.
He said: "Sections one and two will be substantially completed before end of the year. Give and take, about 53 per cent of the projects had been completed.
"We understand the importance of the axis to the economy and security of Nigeria. We are working to ensure that progress is made.
"This particular section is significant and different in many instances, in terms of traffic, capacity and scope. There are many churches around here and there is the issue of compensation, bridges and interchange, pedestrian bridges.
"No doubt, with efforts of the contractors, travel time from Lagos to Ibadan has been cut down tremendously. People used to sleep on the road. But now, you can go to Ibadan under two hours. Accident rate has also reduced tremendously.
''With the amendment to the contract, more facilities, such as toll plaza, better drainage, flyovers, will be provided.
"Travel time has been reduced tremendously. People travel with more comfort and even more security assurance. Armed robbery is easier when traffic is not moving, but when you see flowing traffic, as we have seen today, it also improves security.
"With additional work, not only are we going to have a better road, but it is going to go from two to three lanes on both sides. That means it can carry more traffic.
"Then, auxiliary facilities that have been included, such as toll plaza, street lights and overhead bridges, will make travelling much more pleasant. This is exactly the objective, but most importantly, it is the economy."