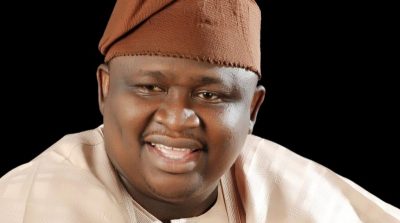 Leaders of the All Progressives Congress (APC), Lagos West senatorial district yesterday backed the re-election of representative of the district, Senator Solomon Olamilekan Adeola.
The endorsement took place during a meeting Adeola had with chieftains of the party in the district at Radisson Blu Hotel in Ikeja, Lagos.
Giving his score card at the event, Adeola promised to provide more dividends of democracy for his constituents.
He said: ''I have successfully presented five petitions to the Senate and one of the petitions has been fully resolved in a case of injustice against one constituent, Sergeant Amos Olaniyan. He was verbally suspended from the Nigeria Police Force 21 years ago for an offence that a Police Orderly Room trial has since exonerated him.
''The Senate has adopted the report of its Committee on Ethics, Privileges and Petitions and its Resolution ordered the IGP to apologise, reinstate, promote and pay Sergeant Olaniyan all salaries and allowances due him.
''He has since been reinstated and is processing his papers for payment of salaries from 1994 to 2015. With the reinstatement, he was retired and is due to collect gratuities and pension.
''The other petitions are undergoing due investigations by the Senate Committee on Ethics, Privileges and Petitions.
''Furthermore, I contributed and fully represented Lagos West Senatorial District in the confirmation of ministers for the Federal Government, chairman of Federal Inland Revenue Services (FIRS), heads of NCC, Police Service Commission and in the deliberations to approve the 2016, 2017 and 2018 Appropriation Bills.
''I also contributed to the debate and was part of the Senate team that visited Lagos State in furtherance of approval of a Second Tranche of $200 million of a $600 million World Bank loan for infrastructure development in Lagos State.
''The Senate and the Federal Executive Council have since approved the loan for Lagos State government.
''However, it is in the area of empowerment that I can assert that numerous constituents benefited from the mandate given to me in the last three years. This was typically done during my yearly Town Hall Meeting and Empowerment Programmes. Two of such has been held at Ikeja and Badagry and the third will come on shortly.
''I mobilised and paid for the Joint Admission Matriculation Board examination for 500 indigent but brilliant students for 2016. I granted 56 tertiary institution scholarships distributed evenly across Lagos West. I also facilitated a series of Entrepreneur Development Training and Skills Acquisition Programmes for 600 youths of Lagos West with beneficiaries spread across the district.''
Senator Adeola said his decision to contest for the governorship seat in Ogun State was not self-serving, adding that he withdrew from the race in deference to the overriding decision of party leaders.
'' If our leaders recall at my second Town Hall Meeting at Badagry, I specifically told constituents in my speech that I am merely consulting and no decision will be taken without briefing my constituents. The consultation in Ogun State was part of our party's strategic move in our Southwest geopolitical zone. And, in the interest of our party and directive of our leaders, I had to end the consultation as I have not declared to run in Ogun State or even contested party primaries. So, I am back and continuing my representation of the people of Lagos West.''
The representative of Badagry Federal Constituency in the House of Representatives, Joseph Bamgbose moved the motion for the adoption and endorsement of Senator Adeola, and it was unanimously seconded by party chieftains at the event.