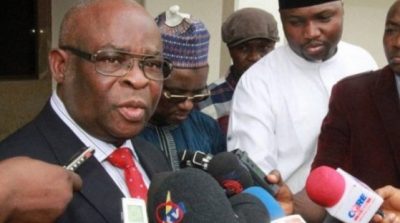 Walter Onnoghen, chief justice of Nigeria (CJN), says some lawyers engage in the forgery of court judgements to get nominated for the title of senior advocate of Nigeria (SAN).
Onnoghen disclosed this on Monday while swearing in new SANs in Abuja.
The CJN said the "desperate lawyers" were caught by the Legal Practitioners' Privileges Committee (LPPC) during the screening exercise.
He said the offenders have been reported to the police and are currently being investigated.
"I have to point out the fact that in the just concluded exercise, some applicants were found to have engaged in dishonourable conduct such as forgery of judgment, resulting in their being reported to the police for investigation and possible prosecution," Onnoghen said.
"We have to know that if one is not for any reason qualified to wear silk as a judicial officer, he cannot wear it as a Senior Advocate of Nigeria.
"I would like at this point to thank the distinguished members of the Legal Practitioners' Privileges Committee tasked with this assignment of scrutinizing over 4,000 judgments, trial proceedings and publications, and at the same time conduct disciplinary proceedings on petitions received against Senior Advocates of Nigeria."
He charged the new SANs to show leadership, integrity and be role models to aspiring lawyers and the public.
Recently, Ikhide Ehighelua, a lawyer, was stripped of his nomination for the title of the SAN by the LPPC over a petition that he instigated contradictory judgement from sister courts. (The Cable)