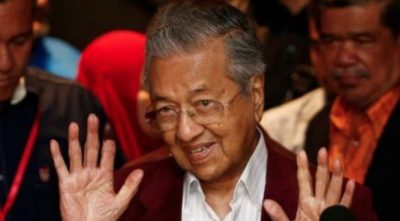 Mahathir Mohamad, 92, has been sworn in as Malaysia's new Prime Minister, making him the oldest elected leader in the world.
Mohamad had ruled the South Asian country for 22 years, between 1981 and 2003.
His alliance of four parties defeated the Barisan Nasional (BN) coalition of 64-year-old former Prime Minister Najib Razak, his protege turned rival.
Mohamad's historic win ousted the BN coalition which has been in power since independence in 1957.
"There is an urgency here, we need to form the government now, today," Mohamad told a news conference before he was sworn in.
Earlier on Thursday, Razak appeared to raise doubts that Mohamad would immediately take office because no single party had won a simple majority of seats in the 222-member parliament, and it would be up to the monarch to decide.
Official results showed that Mohamad's coalition won 113 seats, one more than the number required to rule. But it has not been formally registered as an alliance.
The BN coalition won 79 seats, a collapse from the 133 it won in the 2013 election.
Razak said in a televised media conference that he accepted the "choice of the people".
"I accept and my friends accept … it has been the choice of the people and the Barisan Nasional party is committed to respecting the principles of democracy," he said.
"As one party gained a simple majority, they will make a decision on who will be appointed as prime minister according to the constitution."  (NAN)