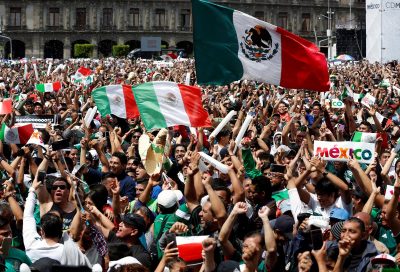 Mexico's goal celebration against Germany quite literally triggered a minor earthquake scare as fans' wild reaction sparked seismic activity in the nation's capital.
Hirving Lozano stunned the Germans by cutting in off the left flank and powered past Manuel Neuer in the 35th minute.
SIMMSA – the body monitoring and analysing seismic activity in Mexico – tweeted: "Earthquake detected in Mexico City during the goal by the national team in the World Cup."
It later added: "The earthquake detected in Mexico City originated artificially. Possibly by massive jumps during the goal of the Mexico team in the World Cup. At least two sensors inside the City detected it."
The win has also helped Mexican fans move beyond the team's recent indiscretions.
The Mexican squad entered the 2018 tournament under a cloud of scandal. The problems began last year when the US Treasury Department accused team captain Rafael Marquez of being a front man for a drug kingpin.
The accusation cost Marquez sponsorships and called into question whether he would play in the tournament. Marquez took to the field toward the end of Sunday's match against Germany, notching his fifth appearance in a World Cup.