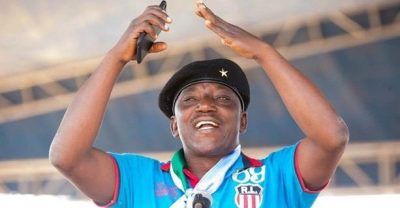 The Minister of Youth and Sports, Solomon Dalung has said that Chris Giwa remains the Nigeria Football Federation (NFF) president as declared by the Supreme Court judgment on April 27.
Mr Dalung told the News Agency of Nigeria (NAN) on Monday in Abuja that the ministry was operating under the rule of law and obeying the court ruling.
The minister was reacting to FIFA president, Gianni Infantino's comment that the world football governing body only recognises Amaju Pinnick as president of NFF.
Mr Infantino at a news conference in Russia had said that Mr Pinnick remained NFF president and that the body would not accept any interference in NFF's affairs.
Mr Dalung, however, said he was not informed of FIFA's decision, adding that he was yet to receive any letter from FIFA that the body was "only recognising Mr Pinnick as president of NFF".
"FIFA has not written me that they recognise one person over the other and you know government does not operate on rumour, government is administration.
"The leadership in NFF, I think is very categorical. The Federal High court in Jos has ruled orders. I, as a co-defendant, was served with the order, ordering me to recognise Giwa as the president.
"That is the order against me and I have done that, the order to the Inspector General of police is that he should go and put Giwa in office.
"The Attorney-General of the Federation has done his job. So we are living under the rule of law and we are following the rule.
"If the court says today, Giwa is not the president of NFF and I'm served with a court order, I will obey.
"Don't forget, when Pinnick sued Giwa in the court of appeal and got a judgment. I obeyed the judgment for over two years.
"Then, I didn't hear anybody talking of interferences. Government is not interfering, we are only acting according to court orders,'' he said.
Mr Dalung advised FIFA to look deeper into the NFF crisis and assist to proffer lasting solutions rather than talking about interference.
The NFF now has Mr Giwa as its president presently, owing to a compliance with court order.
Mr Giwa had obtained a Jos court order to take over the running of affairs at the NFF in compliance with a Supreme Court order.
The apex court had directed all parties involved in the matter to return to the lower court for another look at the case against NFF's September 30, 2014 elections in Warri.
Mr Giwa had insisted that his earlier election on July 24, 2014 in Abuja should stand, while Pinnick's election in Warri took place contrary to laid-down regulations. (Premium Times )