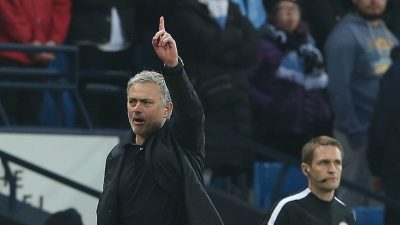 Jose Mourinho was naturally delighted to see his Manchester United side come from two goals down to claim a famous victory in the derby on Saturday.
After City had taken a 2-0 lead at half-time, the Reds staged a storming turnaround as a Paul Pogba double and a brilliantly-taken winner from Chris Smalling secured a stunning 3-2 win.
Here's what Jose had to say in his post-match interview with Sky Sports...
FRUSTRATION AT FIRST GOAL
"I was really sad with their first goal because their first goal came from a corner and that's the third corner I think they have scored against us from this season. And it was in the moment when the game was completely in control. Then after the second goal it was important for the players to stay confident. Matic, Pogba and Herrera had the ball and we moved the ball and we had more of the ball than normally a team has against Manchester City. So it was just a question of keeping our confidence and bringing the lines up a bit more and pressing a bit higher and waiting for a goal."
TOP-FOUR PLACE ALMOST SECURED
"I gave them the example of many matches when a team is losing 2-0 and can recover so credit to the boys because they believed and they kept their shape and it's a very important result for us because mathematically I think we need six points to finish in the top four. That objective is the compulsory objective so we need six points in three matches at home and three away. So I'm pretty confident today has helped with that and to finish second I think is very important. I think we are four points ahead of Liverpool with one match in hand and we are four ahead of Spurs and City need to beat them to win the title. Our challenge is to finish second."

CONGRATULATIONS TO CITY AND PEP
"I told him congratulations because they deserve the title. Of course they're frustrated because they wanted to do it today but I congratulate them because they are going to win it and deservedly so. They have more points than the other teams and they gave no chance to the others. I keep saying we have had a better season than last season, more victories, more goals, more points, less goals conceded, everything has been better for us but it was not enough because of the season they have had when they have not stopped winning. But we are not the team that people think we are – we are not as bad as people think we are, I'm not such a bad manager as people think I am, the players are not so bad as people think they are and that's what we are going to try to prove by showing we are the second best team in the country, but for that we need the points."
DELIGHTED FOR THE FANS
"I'm really happy for the fans because I know for the fans the result against a direct rival is always important and recently we did it against Chelsea, Liverpool and now City. For them it's a nice feeling. I said before the match in an honest way that my objective was not to spoil any celebration because they are going to celebrate sooner or later. The objective was to fight for points because we need points. Even if Manchester United doesn't win the title for the next 50 years, Manchester United is Manchester United and if I don't win anything I am Jose Mourinho and the players are the players. We are honest people and honest professionals and we always try to do our best. I am really, really pleased for us as a group that we can finish in the top four and we have a big chance to finish second with this fantastic result."
WE ALWAYS TRY TO IMPROVE
"I think in the end the number of the points they [City] will have is going to reflect how much better they were than the others. The point is can we improve enough to catch them? I don't know. We are going to try and this result at least gives the boys two good days off with a great feeling and hopefully next time we play at Old Trafford next weekend we can have a good atmosphere to try to get three points because we need six to get a top-four place. So if we get three we are almost there."

PLEASED FOR PAUL POGBA
"I said at half-time that my midfielders couldn't play better than they were playing. It's difficult to play against City because they press really well and are compact and their transition is really strong. I told Matic, Herrera and Pogba that they could not improve a lot from what they did in the first half because they had confidence to play and to move the ball and give passes. I was asking more from my central defenders especially to play with the ball because in the first half they were really shaky with it at their feet and there were bad mistakes. I needed more from my wingers, I wanted them to come inside and give more solutions to our midfielders. So we improved in the second half with that, I was not asking for Paul to improve because I was already happy with what he was doing in the first half. But he scored two fantastic goals and I'm really pleased for him."