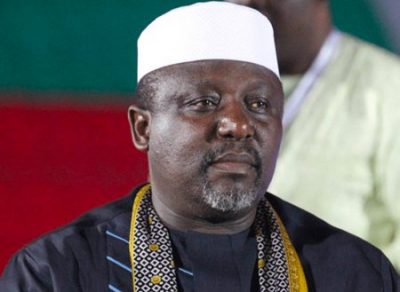 Imo State Governor Rochas Okorocha has assured supporters of the All Progressives Congress (APC) that his Chief of Staff, Uche Nwosu, will win the 2019 governorship election.
Okorocha said his support for Nwosu followed his conviction that he will be a good governor, judging by his acceptability  in the three zones.
The governor, who spoke when political leaders, women and youth groups, traditional rulers came to endorse Nwosu at the Government House, said he would want to hand over to a governor, who will be fair to all zones.
Okorocha reiterated that Nwosu will win, irrespective of objections from political 'bigwigs', saying the power to elect a governor resides with the people and not a few elite and godfathers.
He said: "I have no doubt that Nwosu will win the governorship election, considering his pedigree and humble background. Nwosu has learnt the ropes and is better qualified than any other aspirant.
"He is the least of the political children I trained, but I don't know any of them as much as I have known Nwosu. I took him up when he was just nobody and he grew to the height he is now; his only sin is that he is my son-in-law."