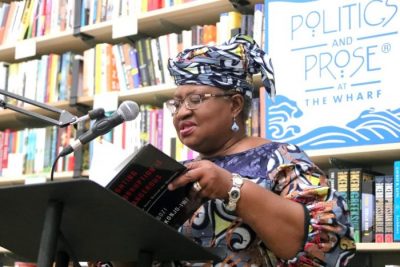 A third term member of the House of  Representatives, Alhaji Tajudeen Yusuf (PDP, Kogi) has faulted former Finance Minister Ngozi Okonjo-Iweala who accused federal legislators of arm-twisting the Jonathan Administration  to 'pay' extra N17 billion to get the 2015 budget proposal passed by the National Assembly.
Yusuf, who was on the National Assembly delegation to a meeting with Okonjo-Iweala on the controversial budget, said the N17 billion was not a bribe but part of NASS' budget.
The lawmaker, who spoke in an interview with The Nation,  in Abuja was responding to claims by the former minister  in her book – Fighting Corruption is Dangerous:The Story Behind the Headlines-  that the lawmakers padded the budget proposals for that year with projects to the tune of N17 billion because they "needed money" for that year's elections.
She described federal legislators as a tough political group to deal with.
However, Yusuf said that on the contrary, it was Okonjo-Iweala who "assumed that being the coordinating minister of the economy" she must  "decide how certain things should have been done because of the age long envelope mentality they gave to ministries, department and agencies in Nigeria."
The former minister, according to him,  "attempted to give National Assembly an envelope that was rejected."
He added: "National Assembly budget for seven years consistently had been N150 billion, while the executive, even CBN, an agency, moved from like N250 billion to like N600 billion, while the National Assembly remained on N150 billion.
"In that particular year, she reduced it to N113 billion. So, when the budget was brought, National Assembly budget had been reduced to N113 billion. So, National Assembly said it would affect the running of its operations.
"Don't forget that 2015 happened to be an election year. It means that when members and aides who would not return were leaving, we would not be able to give them their severance allowance.
"You'll  remember  that the challenge of severance allowance was on until maybe early this year because of that reduction.
"So, the National Assembly now insisted that she could not. It was a battle.
"Fortunately, oil prices increased, so the benchmark that was brought, I can't remember now…I think it was around $70, National Assembly now increased it to $72 or $73. That gave a gap of $3 ( three dollars) multiplied by two point something million barrels per day.
"So, from this, allocation was now remitted to different sectors. We now took N20 billion to augment from N113 billion to N133 billion. Arguments surfaced and it was now reduced from N20 billion to N17 billion.
"It wasn't under-the-table. It was the budget of the National Assembly.
"Those who are conversant or familiar with the National Assembly activities would know that between 2015 and 2017, severance allowance of those who disengaged, especially aides, were not paid because of that shortfall."  (The Nation)