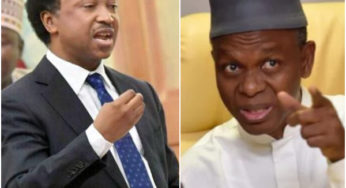 The senator representing Kaduna Central, Shehu Sani, yesterday responded to the popularity test thrown at him by the Kaduna State Governor, Nasir el-Rufai.
El-Rufai had on Monday challenged Sani, to a popularity contest by asking him to visit the Kaduna Central market if he (Sani) would not be attacked by angry traders in the market.
The governor, who threw the challenge while addressing journalists in Abuja, said: "Shehu Sani cannot even campaign in the market. I challenge him; let us go to Kaduna Central Market and let's see who will come out unscathed."
However, taking up the challenge, Sani yesterday visited the Kaduna Central Market without any security escort and urged the governor to do same without security escort.
Accompanied by his aides, Sani went round parts of the market as he was being hailed and cheered by the traders.
The governor and Sani have been at loggerheads since 2015 due to differences in political views.
Their bickering took a different dimension when the National Working Committee (NWC) of the All Progressives Congress (APC), granted automatic ticket to Sani for his re-election in 2019 and while Uba Sani, El-Rufai's aide and candidate for the senatorial seat and three other aspirants were not cleared.
A primary election which was later conducted purportedly on the directive of the NWC of the APC, was boycotted by Shehu Sani, leading to the emergence of Uba Sani as the party's standard beare