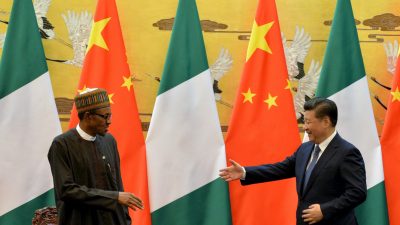 Nigeria has become the latest African country to step up its bid to adopt Chinese yuan as a reserve currency.
Two months after agreeing a three-year $2.5 billion currency swap with China to boost its reserves and aid trade between both countries, Nigeria has begun selling Chinese yuan to local traders and businesses.
An underlying motive of the move is to ease the long-running pressure on Nigeria's naira currency after a slide against the US dollar since 2015. Following the drop in global oil prices in 2015, Nigeria's faced a major dollar shortage as foreign reserves dwindled. International businesses including airlines were forced to shut down or cut down on flights to the country as the government set up controls to restrict access to dollars.
It's an approach other African countries are taking even as they also look to China for fewer-strings-attached funding and loans. China's "debt-trap diplomacy" has been criticized however with debt owed to the Asian giant by some African countries spiking. For instance, Kenya's debt to China has grown tenfold in five years.
The yuan's prospects as a reserve currency has also grabbed attention beyond Africa. The International Monetary Fund named the yuan to its basket of reserve currencies as an alternative to the dollar in 2015. And last year, the European Central Bank converted €500 million worth of its US dollar reserves into the Chinese yuan. (Quartz Africa)