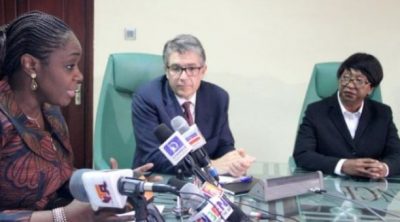 Kemi Adeosun, minister of finance, says Nigeria is focused on accelerating economic growth rate and will not be "complacent around the increase in oil prices".
Speaking on Thursday in Abuja, Adeosun told a delegation of World Bank executives that the federal government is "optimistic and vigilant," and is working to consolidate on the gains of increased revenue by spending more.
The minister had in January said Nigeria cannot afford to rely on oil prices anymore, citing the 2016 decline that preceded one of the worst recessions in 25 years.
"We are not getting complacent around the increase in oil prices but we will focus on the fundamentals that will drive this economy," she told the World Bank executives.
"This period is relatively good for oil prices, we are not resting on our laurels because we see this as temporary.
"So, it is not about the amount of money that comes in but how effectively we are able as a government to convert it for the good of our people."
The finance minister said power sector reforms are key growth engines that would have a multiplier effect on other sectors of the economy.
"One thing that we think is a game changer in terms of the economy regarding industrial growth and improving the standard of living and quality of life is solving the power problem," she said.
"It is a great priority to us and we welcome you to some of the power initiatives that we are driving in the power sector.
"There are two things involved, one is to accelerate that growth and then to make the growth count and make people feel it.
"That is where lifting people out of poverty and creating employment are very critical and crucial to us."
Patrizio Pagano, head of the World Bank delegation comprised of 10 executive directors from 96 member countries, said the visit was aimed at understanding Nigeria's economic priorities and providing the needed assistance for growth and development.  (The Cable )