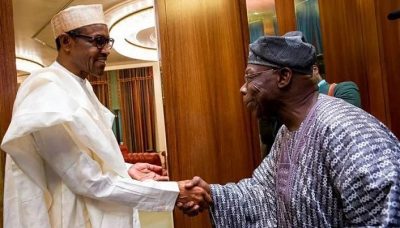 Former Minister of Information, Tony Momoh, has lambasted ex-President Olusegun Obasanjo, saying his eight years in power as a democratic leader was a disaster.
Mr. Momoh, who was the national chairman of the defunct Congress for Progressives Change, was speaking in a Daily Independent report on Thursday.
Speaking on a variety of issues, Mr. Momoh said President Muhammadu Buhari had outperformed Obasanjo in just three years in power.
He said,
Yes, I said stone us if we didn't perform but we have performed. Look at the economy, we came out of recession. Look at the revolution in agriculture; look at what we have also achieved in the area of fighting corruption. I make bold to say that there is no president since 1999 that has performed as Buhari has done?
When asked for clarification on whether in three years President Buhari has surpassed Obasanjo's achievements in eight years, Mr. Momoh said,
Yes, by far!  From 1999 to 2003, there were parallel presidency, Obasanjo and Atiku. Obasanjo spent one year travelling out of his first four years. He left governance to Atiku to such an extent that Atiku was calling the shots.  I was working for Ekwueme and we were discussing with Atiku to run with Ekwueme. Unfortunately, Obasanjo went to meet Atiku, I don't know what agreement they reached but the fact is that Atiku changed his mind.  

When Obasanjo and Atiku won the 2003 election, people from Adamawa sent a delegation to Obasanjo asking him to support Atiku for 2007. I was writing my column that time in Democracy Watch and I predicted that the first casualty of Obasanjo's return in 2003 will be  Atiku. Between 2003 and 2007, Obasanjo spent the most time trying to dislocate Atiku. 

In 2005, because the soul of PDP was PDM, Atiku's party on whose platform Obasanjo got to power, the then PDP chairman, Ahmadu Ali announced that PDP had sacked everybody and they should go and re-register but the instruction was PDM members, Atiku's people should not be registered and so they deregistered PDM. Atiku and Obasanjo were so much at loggerheads that Atiku as Vice – President had no work to do and he was funding his office with his own money. 

Obasanjo even wanted to remove him as his deputy but the courts refused. So in Obasanjo's eight years, he spent the first three years trying to find his feet, he then spent the last year settling down.  

However, the next four years that he would have sat down to do his work, he was busy using it to destabilise  Atiku and therefore destabilising the polity. After the eight years has gone, he now wanted Third Term which Nigerians kicked against. Obasanjo's coming from 1999 to 2007 was a time that he would have really built Nigeria just like Rwanda and other countries did but those eight years were the greatest disaster in our democracy project.