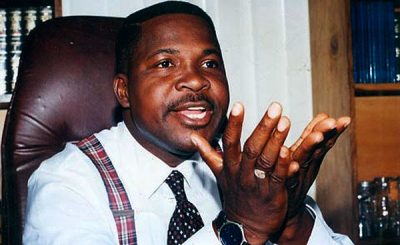 Senior Advocate of Nigeria, SAN, Mike Ozekhome has described the Executive Order no. 6 issued and signed by President Muhammadu Buhari as illegal, unconstitutional, undemocratic, and immoral.
He said by signing the executive order, President Buhari was usurping the powers of the National Assembly- the only arm of government charged with the statutory responsibility of making laws for the nation.
According to him, the Order, if allowed to sail would render the maxim that, "nothing is a crime that hasn't been established," inconsequential.
Relying on Section 36 (5) of the constitution, the human rights activist argued that what President Buhari aimed to achieve by his action could provoke serious legal tussles, if not handled with decorum.
In an interview with Vanguard newspaper, Ozekhome said: "Section 36 of the 1999 Constitution says that a person is innocent until the contrary is proved. So if the President goes ahead with the Executive Order N0. 6, he would have taken the powers of the legislature and the judiciary.
"It means that the President can seize your property, even when you still have a case in court."
"The order is illegal, unconstitutional, undemocratic and immoral. He will use it to terrorise Nigerians. He can sit with his kitchen cabinet and call the attorney-general to go and seize the property of anybody he wishes, even when the person may not have been convicted," he argued.
"It (the Order) is a political weapon because only a court of law can determine whether a property was bought with a proceed of crime or not and whether such property should be seized.
"He will use executive fiat to usurp the extant laws and it is to whittle down the opposition. The Executive Order No. 6 is tempestuous, it has no place in constitutional democracy and it is a blatant assault on the separation of powers," he explained