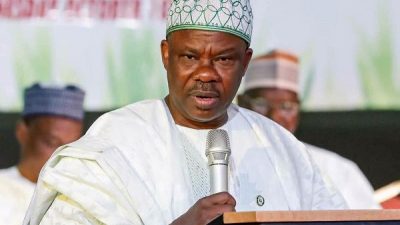 The Federal Government of Nigeria has released the sum of N17.3 billion to Ogun government from the recent Paris fund that was allocated to Nigeria.
The state government in its plan has promised to offset the backlogs of cooperative deductions, gratuity, severance allowance, furniture allowances and other social services.
The government said this, through the state Commissioner for Finance, Mr. Adewale Oshinowo during a Press conference held at the Press center, Oke Mosan in Abeokuta, the state capital.
The commissioner confirmed that he was acting on the instruction of the governor, Senator Ibikunle Amosun said the money arrived the government late-night on Wednesday.
Mr Oshinowo also added that N10 billion which represents 60% of the money would be used for the immediate payment of backlogs of co-operative deductions, gratuity, severance and furniture allowances of the workforce while the balance of N7.3 billion be expended on social services.
His words,"As we have always done, we are here to update all our stakeholders, particularly our civil and public servants, that Mr. President has graciously released the last tranche of Paris Club of N17.3billion.
"The Governor of Ogun state, Senator Ibikunle Amosun has directed that the sum of N17.billion received be expended on the immediate payment of the backlog of cooperative deductions, gratuity, severance, furniture allowance of its workforce and social services.
"the governor also explained that N10 billion of the N17.3 billion be immediately expended on workforce while the balance of 7.3 billion naira will as well be spent on social services for the benefits of the over 7.5 million Ogun state indigenes.
"This is in line with this administration's welfare package for the workers.
"The administration, as you all know, is worker-friendly. This informed its decision to increase the salaries of workers in 2012 which doubled our monthly wage bill. It is a testament to the value this government places on its workforce that it pays the highest salaries in the entire federation.
"The Amosun government consistently pays workers' salaries at when due.
"The latest payment will, no doubt, boost the morale of public service workforce and. enhance its productivity
"On behalf of the state government, I thank the civil servants in the State for their cooperation and patience while assuring that government will, from time to time, offset any outstanding staff related expenses as soon as more funds are available.
"The senator Ibikunle Amosun will continue to do all within its power to cater for civil and public servants in Ogun state." He added
Responding to the development, the Chairman of the Trade Union Congress in the state Comrade Abiodun Olakanmi said the union is pleased with the development but further appealed that the government should as well conduct the backlogs of promotional exercises in the state as it remains paramount to the worker.