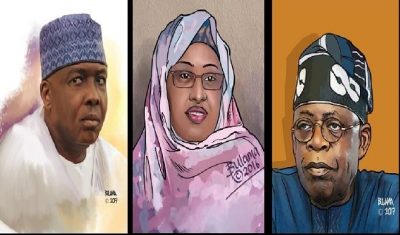 President Muhammadu Buhari is now set for re-election, having parted ways with fellow ex-generals Olusegun Obasanjo, TY Danjuma, and others who strongly opposed the return bid of then-president Goodluck Jonathan. Many of those who assisted Buhari have left of recent, even though the All Peoples Congress (APC) has succeeded in harvesting other prominent people. While there are disgruntled elements in the APC presently, many of its serving governors, almost all the ministers, a large percentage of recently-appointed board members, NWC members of the party, and even some PDP members, will be there for him.
But maybe Buhari's headache will be how to attract and retain the support of some powerful personalities within the ruling party, whose disposition to him is shaky at best, in order to succeed. Such people are strategic, and a force to be reckoned with in  their geo-political zones, so their support would inevitably ensure his victory. And in the event they fight him, or simply look the other way, Buhari would go back to the pre-2011 era when he garnered a whopping 12 million votes, enough to say someone had done well, but not enough.
1. Bola Tinubu
President Buhari and Tinubu have on the surface mended the wide gulf that threatened their pre-2015 alliance. This was evident in how Tinubu eulogised Buhari during his recent visit to Lagos. Before then, Buhari had cleared the course for reconciliation when he "favoured" Tinubu by surprisingly  asking the Chief John Odigie-Oyegun led National Executive Committee (NEC) to reverse itself, shelve the tenure elongation granted them  and organize congresses and convention to elect new leaders.
In retrospect, Tinubu had "gone to sleep" and left the APC reconciliation responsibility given to him by Buhari. The reason was simple – he was not in tune with the tenure elongation for party leaders, and wanted Oyegun to go.
Buhari and his handlers had sensed danger, remembering that 2015's victory was not just pot luck. The presidency came when Tinubu agreed to bring the South-West into the alliance. And unless history repeats itself and the South-West votes fall into Buhari's ballot boxes, winning the game would be a herculean task.
Analysts say the president must maintain the alliance, but the fear is that some powerful forces, including  a section of APC governors are working hard to ensure the return of Oyegun and others during the APC convention. And in the event the convention does not take place, the Governor Simon Lalong-led APC Technical Committee had made a recommendation that the February 27 decision which gave a one-year extension to NWC members should be upheld.
But a key figure in the APC expressed worry. "Once they bring back the February 27 decision, Tinubu would go back to his shell and it would be catastrophic for the APC in the South-West." He said Tinubu would undoubtedly checkmate whatever damage Obasanjo could do in the South-West, insisting that the combined strength of all the ministers from zone would not match Tinubu's in mobilising votes for Buhari.
2. Bukola Saraki
With his firm control of Kwara State, goodwill in some North-Central states, strong followership in the Senate, and an array of his loyalists still calling shots in the PDP, the Senate President, Bukola Saraki, is certainly someone needed by President Buhari, to properly execute his 2019 campaign. At the build up to the 2015 general elections, Saraki was among the key heavyweights who pulled resources together to form the APC, a development that provided the deathblow to their former party, the PDP.
The dramatic way key PDP members, including Saraki, dumped their party, changed the narrative and laid the foundation for Buhari's victory.
Saraki, a former governor of Kwara State, came into the fold with a sitting governor, Abdulfatah Ahmad, and many others.
Since June 9, 2015, the scion of the Saraki political dynasty of Kwara has not left any stone unturned in spreading his political net. The No.3 citizen has weathered many storms, as despite the corruption charges he is facing at the Code of Conduct Tribunal (CCT), he sits pretty in the driver's seat at the Senate.
Although in recent times Saraki's name keeps popping up as one of those eyeing the seat of the president, he has not formally declared that. Also, because of the crisis between the legislature and the executive, there are reports that he is mulling decampment.
If Saraki joins the Buhari campaign team, he would use his colleagues at the Senate and supporters cutting across APC and PDP to work for the president. There are 109 senatorial districts in the country.
3. Rabiu Kwankwaso
The former Kano governor has never hidden his presidential ambition. In 2014, he came second after Buhari, defeating the likes of ex-Vice President Atiku Abubakar and others. At present, Kwankwaso has spread his tentacles in almost all the 36 states, and Abuja. He has been on a voyage from one political zone to the other, campaigning through his foundation, visiting places affected by disaster, and paying courtesy calls on inmates in various prisons, in the process freeing many of them.
Many observers are saying Kwankwaso is in talks with Obasanjo. There are even claims that he would defect to the newly-reinvigorated Social Democratic Party (SDP) or the Peoples Redemption Party (PRP), a claim which his handlers deny. His support for Buhari's second term would be monumental, considering that he is a major power in Kano State.
4. Aisha Buhari
To win the 2019 presidential election, President Buhari cannot afford to confine his wife, Aisha, to his kitchen, living room or "the other room". The wife of the president will be expected to mobilise women for his re-election as she did in 2015. She appears to have a cordial relationship with the governors' wives, but she will be expected to woo various other women's groups for her husband's second term bid. If she doesn't, Buhari might be in for a waned electoral fortune among women.
Mrs Buhari had, in a now-infamous interview with the British Broadcasting Corporation (BBC) Hausa Service in October 2016, threatened that she might not back her husband's re-election in 2019 unless he shook up his cabinet. "He is yet to tell me (if he'll seek re-election) but I have decided as his wife, that if things continue like this up to 2019, I will not go out and campaign again and ask any woman to vote like I did before," Aisha Buhari said at that time.
However, of recent, she seems to be going all-out in a charm offensive, making public appearances that throw good light on Aso Villa's No.1 occupant. While her efforts are good for optics, only time will tell how the campaign will end up looking like in respect to women mobilization.
5. Aminu Waziri Tambuwal
Sokoto State Governor, Aminu Waziri Tambuwal, is one individual that President Buhari will have to work to have completely at his side. Having served twice as a lawmaker from 2003 to 2011, he became Speaker of the House of Reps from then, and served his 4-year tenure successfully.
While as speaker, Tambuwal established and endeared himself to his colleagues. He easily picked the APC ticket for Sokoto State governorship and won the elections in 2015. Because of his influence among members of the House, he contributed immensely in the emergence of Yakubu Dogara as his successor in the House.
But before picking the Sokoto governorship ticket, Tambuwal had wanted to contest for the presidency via the APC.
Sources close to Tambuwal say his body language to date has been that of a politician yearning to rule Nigeria, such that some suggest that he may dump the ruling APC and join another party, possibly the opposition PDP to realize his aspiration. As it is, he is one of the few governors that are yet to clearly come out to declare their support for Buhari's second term bid.
Because of his wide influence among federal lawmakers and fellow governors, it is believed that Buhari will need him to be able to make headway in 2019. Tambuwal has also maintained good rapport with his predecessor, Aliyu Wammako, who is now an influential senator. Sources say their combined goodwill can do incalculable damage if they dump Buhari.
6. Dave Umahi
Umahi, 54, had served as Deputy Governor to Martin Elechi between 2011 and 2015, before becoming governor of Ebonyi State against the wishes of his former principal, under opposition PDP. Since his assumption of office, Umahi has not hidden his love for President Buhari, though he belongs to the opposition. As a matter of fact, Umahi had last year declared support for Buhari, should he decide to re-contest in 2019.
Having someone in like Umahi in the South-East would do wonders for Buhari. Analysts say ministers from the zone should not be counted because they are already with Buhari, and what the president needs is to court the love of those far from him, geographically.
Speaking when a delegation from Ohaozara, Onicha and Ivo Federal Constituency paid him a New Year homage in Ohaozara LGA, last year, Umahi said Buhari had already won the support of PDP-controlled Ebonyi State. He said by Buhari's exemplary leadership, the president has won the hearts of Ebonyi people. "If APC will get a vote in Ebonyi State, it will get vote by the president alone and nobody else," Umahi had said.
However, the Ebonyi APC leadership last Tuesday accused Umahi of deceiving the president on his second term bid and victimizing opposition in the state.
The APC chairman in Ebonyi State, Eze Nwachukwu, said during a visit to the Secretary to the Government of the Federation (SGF), Boss Mustapha, that "The same governor secretly signed a document on stopping the president with other PDP members." The governor reacted by saying he would not be distracted. But should Buhari get Umahi to his side, it would be a big plus for him.
7. Yakubu Dogara
Yakubu Dogara, the Speaker of the House of Reps, by virtue of the seat he occupies, is a force to be reckoned with when it comes to political permutations. Despite the opposition he faced from his political party, the APC, Dogara emerged as speaker on June 9, 2015 in a keenly-contested election. But since then, he has been carrying himself like an outcast in the party, though he appears to be close to President Buhari.
Like his predecessor, Dogara was a member of the PDP, and due to the subtle opposition he faces within the party, there are speculations that he is only waiting for the right time to join another party, maybe PDP.
Dogara is yet to indicate the direction he will follow and has not declared support for Buhari's second term bid. Not only does he control his constituency of Bogoro/Dass/Tafawa Balewa of Bauchi State, he also has influence in the other 259 federal constituencies around the country since he controls a 360-member House. Being the No.4 citizen, he is someone the president needs.
8. Timipre Sylva
Timipre Sylva remains the APC leader in Bayelsa State, in spite of disagreements the former governor has always been having with the party's embattled representative in the National Working Committee (NWC), Comrade Timi Frank. President Buhari, therefore, needs his support in the oil-rich state.
Though Sylva might have lost his re-election bid to the incumbent Governor Seriake Dickson in the last controversial governorship election, he still enjoys the confidence of his large followership across the State. But his recent silence on party activities and other governance issues is something President Buhari should not ignore if he really wants to garner the needed votes in Bayelsa, which remains the stronghold of former President Jonathan.
The relevance of Sylva in Bayelsa politics is strengthened by the frequent clashes he has always been having with Governor Dickson, who still sees him as a big threat to the PDP in the state. In November last year, both Sylva and Dickson traded blame over the violent political clash between supporters of the APC and the PDP in Brass LGA.
All things being equal, Buhari must ensure that Sylva works with other APC stakeholders in Bayelsa State if he wants to have any impact in a state that still has huge respect and sympathy for ex-president Jonathan.
9. The APC Presidential Campaign Council
Ahead of the 2015 elections, the APC Presidential Campaign Council was formed and thousands of volunteers were recruited. Many of them anticipated that they "would be carried along" after the elections. But three years in power, many are still waiting for their reward.
"It would be a different ball game in 2019," said Ibrahim Jirgi, a member of the council. "I'm not sure if they would have as many volunteers as they got in 2015. Of course some have been appointed into boards, but the contributions of hundreds of others have not been appreciated. Many have grudges, some have died. Up till now, more than 60 per cent of those who worked for Buhari's presidency have not been carried along," he said.
10. Mohammed Danjuma Goje
Fondly called Sarkin Yakin Gombe by his colleagues and admirers, Senator Goje, a crowd-puller and the oracle of Gombe State politics is considered as one of the politicians needed by Buhari to clinch the presidency again, come 2019.
Like Saraki, Goje is a former governor, a second-timer at the Senate and a key player in the political machinery of the former Governors' Forum. It is believed that on expiration of his tenure in Gombe State, he singlehandedly made Ibrahim Dankwambo his successor.
Unlike Saraki, Goje could not pull Dankwambo to APC when they dumped the PDP and their relationship had since turned sour. At the moment, Dankwambo is one of the persons believed to be eyeing Buhari's seat.
Goje's strength is his massive supporters' base in Gombe and the goodwill he enjoys in neighbouring states in the North-East.  Penultimate Thursday, he raised alarm that the PDP members in Gombe state are being empowered through the Social Intervention Program (SIP) of the President. "You are given them money to fight us," Goje told Maryam Uwais, the presidential adviser on SIP.
As chairman of the North-East Caucus at the National Assembly and a powerful member of the Forum of Former Governors, Goje will add colour to the campaign of Buhari if carried along. He possesses the capacity to mobilise his colleagues to rally round the president.
As it is now, many members of the forum are said to be angry with the president, with insinuations that many of them could end up in jail if Buhari wins a second term, on the grounds that that would be the climax of his political expedition. Buhari needs to convince them that he would not be a fair weather friend at the end of the day.   (Daily Trust)