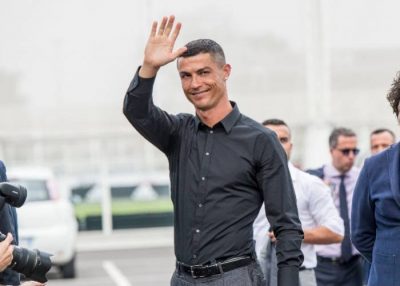 Embattled Cristiano Ronaldo was reportedly sighted in company of his company for the first time since after his rap'e allegation.
The 33-year-old recently joined the Italian champions in the summer in a deal valued around £100 million.
As a result of his red card in his side's 2-0 win over Valencia in their Champions League opening fixture last month, he was at the stands to watch Juve beat Young Boys 3-0 at the Allianz Arena on Tuesday night.
Cristiano Ronaldo watching Juventus' Champions League match from the stands. pic.twitter.com/lVNYWzJfUV

— Kick Off (@KickOffMagazine) October 2, 2018
SunSport reported that Ronaldo's girlfriend Georgina Rodríguez, son Cristiano Jr and mum Dolores Aveiro were also at the stadium with the forward on the night.
However, it was the first time he was seen with his partner since the rap'e claims against him were made public on Saturday.
The former Manchester United superstar went missing from training at Juve's Turin base as he rested following the ban — while battling claims he rap'ed a model in Las Vegas in 2009.
Kathryn Mayorga a Las vegas resident in US has filed a lawsuit claiming she was raped by Ronaldo in 2009.

She claims she received $375,000 in exchange for her silence; her lawsuit seeks to void the settlement and agreement.

Ronaldo has branded it as 'fake news' pic.twitter.com/AKs2WQYOYQ

— Betin Uganda (@BetinUganda) October 1, 2018
Kathryn Mayorga claims the former Real Madrid star attacked attacked her at a Sin City hotel after meeting her at a nightclub. according to the Sun.
Ronaldo on his own part has vehemently denied the allegations which emerged in German magazine Der Spiegel.
Ms Mayorga claims he attacked her in the penthouse suite of the Palms Casin'o Resort — before apologising and saying he is "usually a gentleman", explosive court papers allege.
Ms Mayorga took legal action in 2010 and reportedly received a £287,000 settlement forbidding her from repeating the allegations — a clause she is now seeking to overturn.
Yesterday it emerged that Las Vegas police have re-opened the investigation into the alleged se'xual assault.
Portugese ace Ronaldo branded the claims "fake news" as his lawyers said they would seek "substantial damages" against Der Spiegel.
Lawyers for Ronaldo and Ms Mayorga have not responded to requests for comment from The Sun.