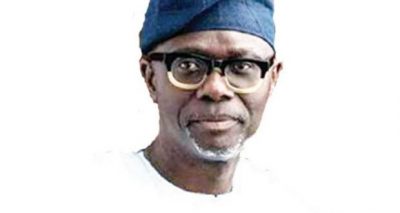 The Lagos State youth leader of the all progressives congress APC, Mr Tayo Sanya-Olu has heaped commendations on Mr Jide Sanwo-Olu, the Front line governorship aspirant for the 2019 general election on the platform of the party in lagos state.
Among many other leadership qualities that few of us who have had the opportunity to interracted with you, your unequalled humility, endurance threshold, clear mindedness in midst of unwarranted direct provocation and unsubstantiated verbal attacks on your person speaks volume of your brand of leadership.
Without mincing words, i stand bold to tell you that your reaction and self restraints has endared millions of lagosians to you, especially the youngstars and intellectually sound minded youths.
The Yorubas would say "Only four eyes are required to bare a child but it takes twenty to watch over the child" but with your own two eyes, you have shaped millions of minds with your carriage, charisma and self restraint.
Ordinarily if you had responded in like as they have expected, you would have completely diverted the attention of lagosians (who are ernestly clamouring for inclusive governance, cleaner lagos, jobs for the teaming youths, world class road networks etc) from this core issues that should form the basis of electioneering discuss to market square quarrel, gossips and unsubstantiated allegations and counter allegations.
Sir, just like the former governor Fashola SAN,you have avoided the pig fight and the young and upcoming generation of politicians have found a MENTOR in you. The same cannot be said of your detractors; they waited for you in the mud, thinking you were going to jump and engage them, but you showed them that your business is with lagosians and the need to truely portray the EXCELLENCE that comes with the esteem office of the governor, especially in the STATE OF EXCELLENCE. Now they are not only stained and drenched in mud, the smell of sulphur, and are roundly rejected everywhere they go. They have gone into hidding because they are confortable with their own smell.
Sir, by this time tomorrow, party faithfuls would have affirmed your mandate and the real work starts. Onbehalf of the youths, who makes up over 70 percent of the voting population, i humbly request that you continue to stay focused because we are with you all the way.
HON.TAYO SANYAOLU.
APC youth leader,
lagos state.