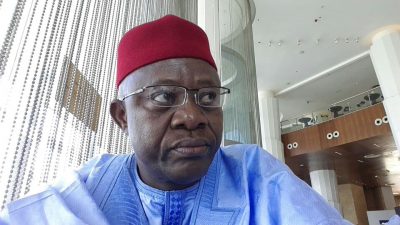 Ochereome Nnanna, chairman, editorial board of Vanguard Newspapers, has come under heated criticism over a veiled reference to people of the Yoruba ethnic group as "sophisticated morons".
Nnanna's comment followed the reactions to President Muhammadu Buhari's conferment of GCFR on late MKO Abiola, presumed winner of the June 12, 1993 presidential election.
While some welcomed the development, others described it as a move to woo the south-west into voting for Buhari in 2019.
One Areh Sunday, a journalist and aide to Ifeanyi Okowa, governor of Delta state, took to Facebook to share his opinion on the issue.
"I used to think the south-west was very sophisticated. I was wrong. They are the most gullible. They fall for every poisoned carrot dangled before them," Sunday wrote on Facebook.
Responding to the post, Nnanna wrote: "Sophisticated morons, more like."
He was bombarded with uncomplimentary messages not long after he dropped those words.
Most of those who reacted to Nnanna's comment accused him of not being careful with his choice of words despite holding a high office.
Some even demanded his resignation.
One Sola Ajulo wrote: "Mr Ochereome Nnanna is the Chairman Editorial Board of Vanguard Newspapers. He is also apparently an ethnic bigot who could not hide his hatred for the Yoruba race due to the June 12 recognition of Chief MKO Abiola, GCFR.
In a comment on Facebook, Mr Nnanna referred to the Yorubas as "Sophisticated Morons"! I wouldn't have made an issue of this because I understand that emotions were rife but considering the sensitive position he occupies, I feel it is dangerous for this nation for a man who directs the editorial board of a national newspaper to be this hate filled.
The management of Vanguard Newspapers need to call Mr Nnanna to order or reconsider his fitness for such a sensitive role. With this level of unveiled disdain for a race, it is difficult for anyone to expect any neutrality or fairness from Vanguard Newspapers.
If this nation means anything to you, please share this until the Management of Vanguard Newspapers does something about Mr Nnenna's attitude. We should stop condoning bigots in positions of authority. Nigeria belongs to ALL of us!"
Below are other comments:
If @vanguardngrnews does not remove Ochereome Nnanna as Chairman of its Editorial Board, I will instruct my company & every organisation I am associated with to stop buying Vanguard NP. pic.twitter.com/IR31K9oATK

— Kayode Adebiyi (@KayLord1) June 9, 2018
Lemme quickly correct something in this, I've confirmed the said comment of the Chairman, Editorial Board of @vanguardngrnews, OCHEREOME NNANNA was not made in an editorial but on a Facebook thread posted here but yes it was made by him. pic.twitter.com/fOm7Ka0Tk5

— Lex Akindumila (@Enilexx) June 8, 2018
"Yorubas are sophisticated morons" – @vanguardngrnews editorial board Chairman Ochereome Nnanna vent frustration on Facebook over @MBuhari honouring MKO Abiola and #June12DemocracyDay #June12pic.twitter.com/DAQeP6QXZu

— Kayode Ogundamisi (@ogundamisi) June 9, 2018
If @vanguardngrnews won't deal with Ochereome Nnanna, then @PoliceNG@NGRPresident @NGRSenate@HouseNGR @ngrcommtech@DefenceInfoNG should please deal with him. https://t.co/3owu8t6IYZ

— Oluwatosin Ibitokun (@oluwathocin) June 9, 2018
A comment by Ochereome Nnanna has justified attacks on Igbos. Attempt to apologise makes it worse. Nigerian is irredeemable.

— Obunike Ohaegbu (@ObunikeOhaegbu) June 9, 2018
@vanguardngrnews if someone with many years of experience as Ochereome Nnanna cannot engage in discussion without abusing an entire tribe, then he doesn't deserve his place in your organization. His statement is shameful and a huge discredit to @vanguardngrnewshttps://t.co/3owu8t6IYZ

— Oluwatosin Ibitokun (@oluwathocin) June 9, 2018
If @vanguardngrnews don't immediately sack Ochereome Nnanna then they are party to this shameful act. A senior mgt employee of a renowned organisation should be more responsible. @jimidisu@Omojuwa @Toyin_Ibitoye@FMICNigeria @PremiumTimesng@MobilePunch https://t.co/3owu8t6IYZ

— Oluwatosin Ibitokun (@oluwathocin) June 9, 2018
Hours after the storm on social media, Areh took down his post but the screen shots remained in circulation.
In a bid to douse the tension, Nnanna apologised, saying he never mentioned any ethnic group.
"In my comment to a friend's post I never mentioned the name of any ethnic Group. Beware of blackmailers. I am a free mind," Nnanna said.
"My people, just calm down. I can't call any ethnic group dirty names. Coolu tempah. I hold you all in high regard. Let it go."
But that did not stop people from commenting on the issue. Yoruba is of the three major ethnic groups in Nigeria.