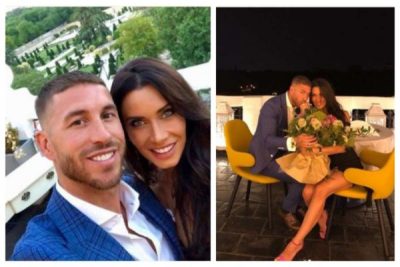 Spain and Real Madrid captain, Sergio Ramos has gotten engaged to Pilar Rubio, who has three kids for him.
32 year old football star, Sergio Ramos and his 40 year old baby mama, Pilar Rubio are finally engaged
The celebrity couple have decided to plan their wedding soon, even after 3 kids. Sergio who is known to be a star player for international football club; Real Madrid, is soon to be a husband after his girlfriend of six years accepted his proposal at a romantic dinner on Monday evening.
Ramos shared the news on Instagram with two pictures of himself accompanied by his excited bride-to-be and her new huge ring.
The images were captioned with a simple;
'She said yes. I love you… forever.'
Ramos has been dating Spanish TV presenter and journalist, Rubio, since 2012.
Rubio,was previously a model and and has also won awards for best television reporter. For the past four years she has been working on Spanish comedy show, El Hormiguero.
They have three children together, all boys. The oldest, Sergio, was born in May 2014 and the two younger children are named, Marco and Alejandro – the latter of which was born in March this year.
Ramos has made the most of his time off having taken his family on holiday and will now return to Madrid with a fiancee.
He will soon have to team up the squad for pre-season, having had his time off earlier than he would have hoped following Spain's premature World Cup exit.