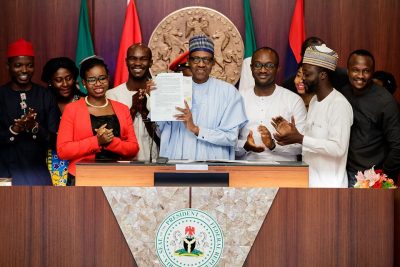 The 'Not too young to run' bill does not affect age limit of senators and governors in the country.
This was disclosed by President Muhammadu Buhari who signed the bill into law on Thursday.
The bill seeks to reduce age qualification to hold elective office in the country.
Eligible age for aspirants for members of the state houses of assembly will be reduced from 30 to 25 years, while that of the house of representatives will be reduced from 30 to 25 years.
It will also reduce the age limit for the office of the president from 40 to 35 years.
The bill had also sought to reduce the age for the office of a governor from 35 to 30, and that of the senate from 35 to 30.
"Surprisingly, the age limits for senators and governors was not reduced, as originally proposed by the sponsors of this bill," Buhari said when he signed the bill.
"This is an issue that may need to be addressed going forward."
It is not yet clear why the lawmakers removed the provision.
TheCable reached out to Sabi Abdullahi, spokesman of the senate, and Abdulrazak Namdas, spokesman of the house of representatives, but neither of them responded to the enquiry sent to them.  (The Cable )