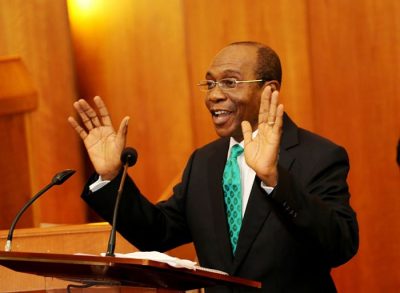 The Governor of the Central Bank of Nigeria, Dr Godwin Emefiele, has reiterated the main reason behind the decision to change Skye Bank Plc's name to Polaris Bank Limited; insisting that it was not for 'sexy reasons'.
Dr Emefiele made this known in Abuja while speaking to journalists at the end of the Monthly Policy Committee (MPC) meeting, saying that the name change was for legal reasons.
According to him, the CBN and the Federal Government has invested close to N800 billion in the bank. As such, its name had to change in order to reflect ownership structure.
"HAVING GOTTEN TO A POINT WHERE THE CENTRAL BANK OF NIGERIA AND THE FEDERAL GOVERNMENT HAS INVESTED CLOSE TO N800 BILLION IN THIS BANK, AT SOME POINT, IT HAD TO BE SEEN TO BE OWNED BY THE CBN UNTIL WE FIND INVESTORS THAT WILL BE WILLING TO PAY A FAIR PRICE FOR THE BUSINESS. THAT IS THE COMPELLING REASON THE NAME HAD TO CHANGE."  -EMEFIELE
(Nairametrics)