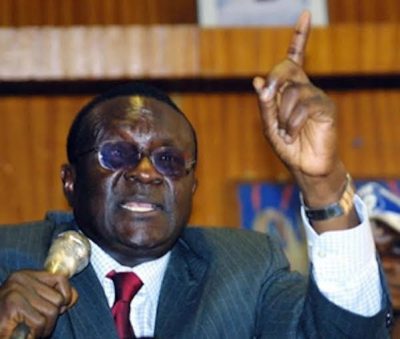 Mohammed Fawehinmi, first son of Gani Fawehinmi, late human rights lawyer, says his family is happy with the conferment of the Grand Commander of the Niger (GCON) honour on his father.
President Muhammadu Buhari announced the conferment on Wednesday when he also honoured MKO Abiola, presumed winner of the June 12, 1993 election, with the Grand Commander of the Federal Republic (GCFR), and Baba Gana Kingibe, Abiola's running mate in the election, with a GCON.
Fawehinmi, an advocate of the June 12 agitation, had called on then military President Ibrahim Babangida to recognise Abiola as the winner of the election.
He was consequently jailed alongside other activists over the June 12 debate.
Fawehinmi died in September 2009 after battling with lung cancer, aged 71.
Mohammed said the family has been expecting the recognition for years, adding that it is a welcome move.
"It is a welcome development. This is what we have been waiting for over the years. Good Nigerians have made several calls for Chief M K O Abiola to be recognised as a Nigerian president. For this government to have done this, it is a welcome gesture," he said in a statement.
"It is a good news that M K O Abiola is going to be awarded GCFR honour and Babagana Kingibe to be awarded GCON, It is clear that Abiola was elected the president of this country, the mere fact that he was not sworn in does not mean he was not elected. This has vindicated Abiola.
"For my father's honour, we thank the government for that. We know he deserved it. We are happy for that."
Mixed reactions have trailed the conferment of the national honours since the president made the announcement.
While some applauded the move, others questioned the legality of the president's action.
Among those who questioned the legality of the move is Alfa Belgore, a former chief justice of Nigeria (CJN).
Belgore had argued that the national honours "is for people living."