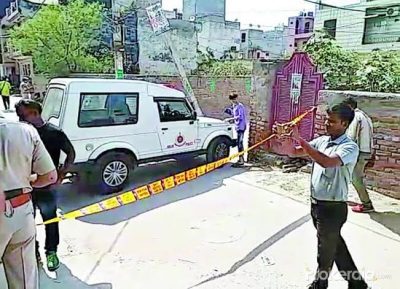 Three Nigerians have been discovered dead in their flat in Uttam Nagar area of New Delhi, India.
Quoting India's The Hindu newspaper, NAN reports that the Nigerians were found dead on Friday.
The police were said to have recovered bottles of alcohol and soft drinks from the apartment. All three men were found frothing in the mouth.
Shibesh Singh, deputy commissioner of police, said the victims were identified as David Christopher, Greece Ben, and David (I), all in their 30s.
While Greece used to live on the third floor of the rented accommodation, David is said to reside on the second. David (I) rented a house nearby but often visited the duo.
"Greece and David were here on a business visa. Greece had come in March and David had come in April," Singh said.
The police received a PCR call around 12.30pm from the landlord of the deceased stating that a foul smell was emanating from the house.
"The whole building is inhabited by people from African countries. There is a common kitchen near floor three. A resident of the building passed by and knocked on the door because of the smell, but no one opened. He then called the landlord, who called the police," the DCP said.
When the police broke open the door, they found the bodies of David and Greece in one room and David (I)'s body in another room.
"One of the three bodies was in a state of decomposition. There were no strangulation marks or any other external injuries on the bodies," Singh said.
The police have moved the bodies to Deen Dayal Upadhyay Hospital for post-mortem to ascertain the cause of death.